Naja's Place 3rd Annual IPA Fest – Tap List Revealed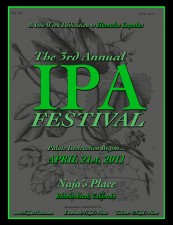 Naja's Place in Redondo Beach, CA is holding their 3rd Annual IPA Fest, honoring the hoppiest IPA's and Double IPAs in the world.
Starting April 21, you can swing by the Redondo pier to have your tongue busted wide open. Here is a list of 50 beers that are slated to be served.
Ten more will be announced right before the event., but this should get you started.
Cheers, The Full Pint
Click orange links for The Full Pint's tasting notes….
1)    Strand Single Hop DIPA
2)    Bootlegger's Knuckle Sandwich
3)    Ballast Point Tongue Buckler
4)    Karl Straus Black Belgian IPA
5)    Avery Maharaja (2011)
6)    Russian River Pliny the Elder
7)    Cistmontane Double Rainbow
8)    Oskar Blues Gubna
9)    Stone Ruination (double dry-hopped)
10)    Iron Fist Gauntlet
11)    Sierra Nevada Torpedo
12)    Firestone Walker Double Jack
13)    Ladyface Alehouse & Brasserie IPA
14)    MateVeza Yerba Mate IPA
15)    Deschutes Hop Henge
16)    Drake's Geyser Brau
17)    Kern River Just Outstanding IPA
18)    Buckbean Black Adler
19)    Bruery Humulus Lager
20)    Coronado Idiot IPA
21)    Port Mongo
22)    Alesmith IPA
23)    Victory Hop Wallop
24)    Rubicon IPA
25)    Green Flash Imperial IPA
Part II
1)    Strand Black IPA
2)    Strand Atticus IPA
3)    Bootlegger's Rustic Rye
4)    Ballast Point Dorado Double IPA
5)    Avery DuGana
6)    Russian River Blind Pig
7)    Eagle Rock Populist IPA
8)    TAPS Fish House & Brewery IPA
9)    Firestone Union Jack
10)    Ladyface Alehouse & Brasserie Cheseboro
11)    New Belgium Ranger IPA
12)    Gouden Carolous Hopsinjoor
13)    Tustin IPA
14)    Rubicon IPA
15)    Shipyard XXXX IPA
16)    Bayhawk IPA
17)    Dogfish Head Burton Baton
18)    Cistmontane Coulter IPA
19) Stone Sublimely Self-Righteous
20) A'ChouffeHoublonChouffe
21)    Drake's Denogginizer
22)    Speakeasy Big Daddy
23)    Lagunitas IPA
24)    SoCal Beer Company IPA
25)    Bear Republic Hop Rod Rye
Click here for the whens and where for this event. https://thefullpint.com/events/the-3rd-annual-ipa-festival-najas-place