The Farmers' Cabinet To Host Philly Debut Of Denmark's Evil Twin Brewing Company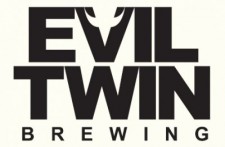 On April 19, Join The Farmers' Cabinet As They Debut Denmark's Evil Twin Brewery With Brewer Jeppe Jarnit-Bjergso
Philadelphia, PA – On Tuesday, April 19 at 7 p.m., The Farmers' Cabinet, will host Denmark brewer Jeppe Jarnit-Bjergso of Evil Twin Brewing Company for his Philadelphia debut. Brewer Jarnit-Bjergso recently announced the arrival of Evil Twin Brewing to the United States, with The Farmers' Cabinet being the second stop on their launch.
During this special evening, The Farmers' Cabinet will offer flights and single pours of five Evil Twin beers: Before, During, & After Christmas (8% Imperial IPA); Soft DK (10% Vanilla Imperial Stout); Yin (10% Imperial Stout); Yang (10% Imperial IPA); and Disco Beer (10.5% IPA and Chardonnay Blend, bottled). Executive Chef Peter Felton will create an optional tasting menu to compliment the beers, in addition to the a la carte menu.
Evil Twin Brewing is the brainchild of Jeppe Jarnit-Bjergsø. An avid beer geek since 1997, Jeppe began home-brewing in Copenhagen, Denmark in 2003. His first foray into the commercial craft beer scene commenced in 2005, when he opened the now world-famous bottle shop Ølbutikken. The reputation of Jeppe and his shop grew quickly, and a myriad of side projects began including his collaboration with Cantillon on the Blåbær Lambik, one of this most highly regarded, highly sought-after lambics in the world. Evil Twin Brewing is Jeppe's latest venture, and is the culmination of the vast knowledge, experiences, and relationships he's built over the years. Jeppe is the "evil twin" of Mikkel Borg Bjergsø of Mikkeller brewery, a gipsy-brewer, who creates his beers at different breweries in Denmark, around Europe and in the United States.
The Farmers' Cabinet is an inviting restaurant that combines rustic American dishes, extraordinary cocktails and an extensive selection of European craft beers in an atmosphere reminiscent of a Victorian era saloon.
The Farmers' Cabinet is located at 1113 Walnut Street, Philadelphia, PA 19107 – www.thefarmerscabinet.com
ALL DRINKERS WELCOME