West Coast Brew Fest 2011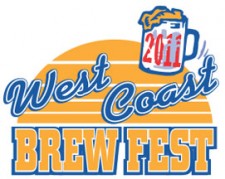 Yes, its time for the 12th Annual West Coast Brew Fest! Join 3000 of your closest friends for an afternoon of Live Music, Great Food, and over 120 different brews!
Sacramento, CA – As always, the West Coast Brew Fest is a ticketless beer tasting event. For one low price, you get entrance to the event, a special tasting cup, a wristband and a wide variety of craft brews to sample. There is never a need to buy more tokens or tickets.
The West Coast Brew Fest benefits the Make A Difference Project, a local non-profit organization that strives to improve communities by enhancing civic involvement. So come on out, have a great time and support a great cause.
WCBF is everything a brewers fest should be with Live Music by the local bands, great food provided by great vendors and TOKENLESS MICROBREW TASTING!
Unlike most Brewers Festivals, the WCBF has a sanctioned Commercial Craft Competition two weeks prior to the festival where certified beer judges will conduct a double-blind tasting over 18 different categories to determine their favorites among the hundreds of beers that are entered. Ribbons will be awarded and the breweries will proudly display their prizes at the Brew Fest.
"We want to highlight West Coast Breweries, and have a little fun, but we also want to do so for the right reasons," says Matson Breakey, spokesperson for the event.
Breweries from Washington, Oregon and California will display their craft the day of the event. With live music, tokenless microbrew tasting, and a great vartiety of foods, the West Coast Brew Fest promises to be an awesome event for everyone.
The West Coast Brew Fest is located right along the Sacramento River at the Miller Park peninsula. Located at the West End of Broadway, Miller Park is full of shade and the beauty of the Sacramento River… the perfect place to enjoy over 60 different breweries and over 100 different beers!
2790 Marina View Drive, Sacramento 95818 – www.westcoastbrewfest.com – For Tickets click here