38 Degrees Ale House & Grill 6th Anniversary Celebration TOMORROW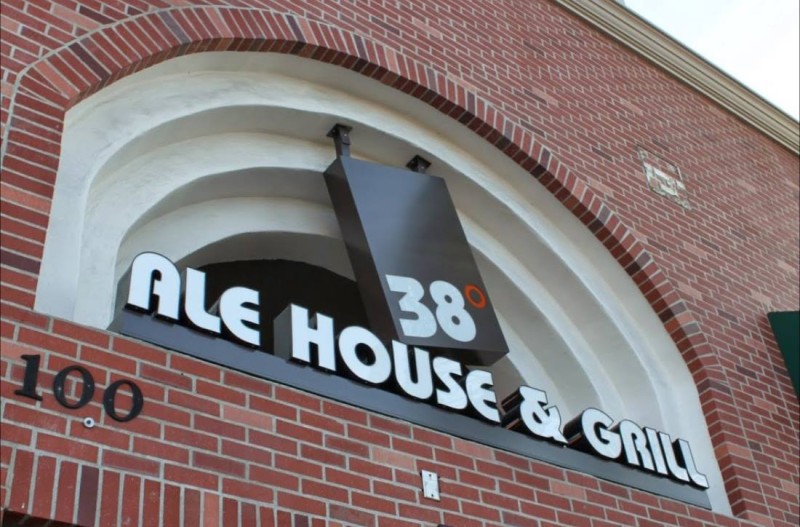 (Alhambra,CA) – 38 Degrees Ale House & Grill is turning 6, and what better way to celebrate this event than with a larger than life celebration featuring some of the fanciest and tastiest beers around. Beginning 11:30am on Saturday June 27th, doors will be open to the greater Los Angeles area to enjoy over 30 special draft choices, many of which are rare barrel aged beers. Read on for details and tentative tap lineup.
What: 38 Degrees Ale House & Grill 6th Anniversary Celebration
When: Saturday June 27, 2015 from 11:30am til 1am
How much:  No tickets, no cover charge, no tokens, just pay as you go. Full food menu will be available as well, so come hungry.
Where: 100 W. Main Street Alhambra, CA 91801 – Free public parking on First Avenue and 2 hour parking behind the restaurant.
Tentative Tap list – Should one of these gems blow, another gem will be put on! 
Almanac Dogpatch Sour
Avery Uncle Jacob's Stout
Bagby Beer Dork Squad IPA
Ballast Point Peanutbutter Cup Victory At Sea
Beachwood Rye Like An Eagle
Cascade Sang Royal Vintage 2012
Eagle Rock Milo Oatmeal Pale Ale
Firestone Walker Parabola 2015
Golden Road Barrel Aged Berlinner Weiss on Raspberries
Green Flash Silva Stout
Hangar 24 Slow Roll
Ironfire Drawn & Quartered
Kern River Black Rock IPA
Kern River Dirty Hippie
Ladyface Derailleur
Logsdon Oak Aged Bretta
Monkey Paw Cornelius Tripel IPA
Moylan's BA Kiltlifter 2013
Nectar Ales Black Xantus
Noble Soda Jerk
Noble Mosaic Yum Yum
Port Brewing/ Lost Abbey Track 8
Prairie Ales Eliza5beth
Prairie Bomb!
Russian River Pliny The Elder
Russian River Row 2 Hill 56
Shmalts Funky Jewbelation 2014
Stone Pilot Batch #9 Single Rakau Hop IPA
Struise Pannepot
Tahoe Mountain Bourbon BA Dark Ages
The Bruery Bois
The Bruery Terreux Filmishmish
Three Weavers / Arts District Collaboration The Return Of Sassy Rye IPA 6.7%
About 38 Degrees Ale House & Grill
Founded by Clay Harding, Brian Sugita, Mike Fata  and Chuck Fata in 2009, 38 Degrees Ale House & Grill has proudly served the Los Angeles area with one of the most diverse selections of ales and lagers accompanied by some of the most creative and well executed food menus of New American cuisine in the area. In addition to our clean, well maintained 38 draught craft taps, we offer a wide selection of wines and cocktails, ensuring we have something to please everyone. Follow 38 Degrees on Facebook, Twitter and Instagram. For reservations and menus, please visit http://38degreesalhambra.com.
Would you like to promote your upcoming beer festival, pub event, or beer related product, please contact The Full Pint today by clicking here.