Four Brewers | Anchorage Brewing Company Makes a Deal with the Devil
Season 2, Episode 11 – This week's show is all about our new favorite brewery from Alaska, Anchorage Brewing Company.
[Player above not working? Download here.]
This week it's all about Anchorage Brewing Company. They've taken the beer world by storm as of late with their tasty brettanomyces saisons, IPAs, and tripels. Anchorage has a very unique take on beer that can be quite inspirational to homebrewers.
The first beer up (03:05) is Galaxy, a white IPA made with Galaxy hops, corriander, kumquats, and peppercorns. The beer is fermented with wit yeast in French oak, dry hopped with another dose of Galaxy hops, and then bottle conditioned with brettanomyces and wine yeast. Damn. There's a bit of a debate on the show as to whether or not this beer should be classified as an IPA.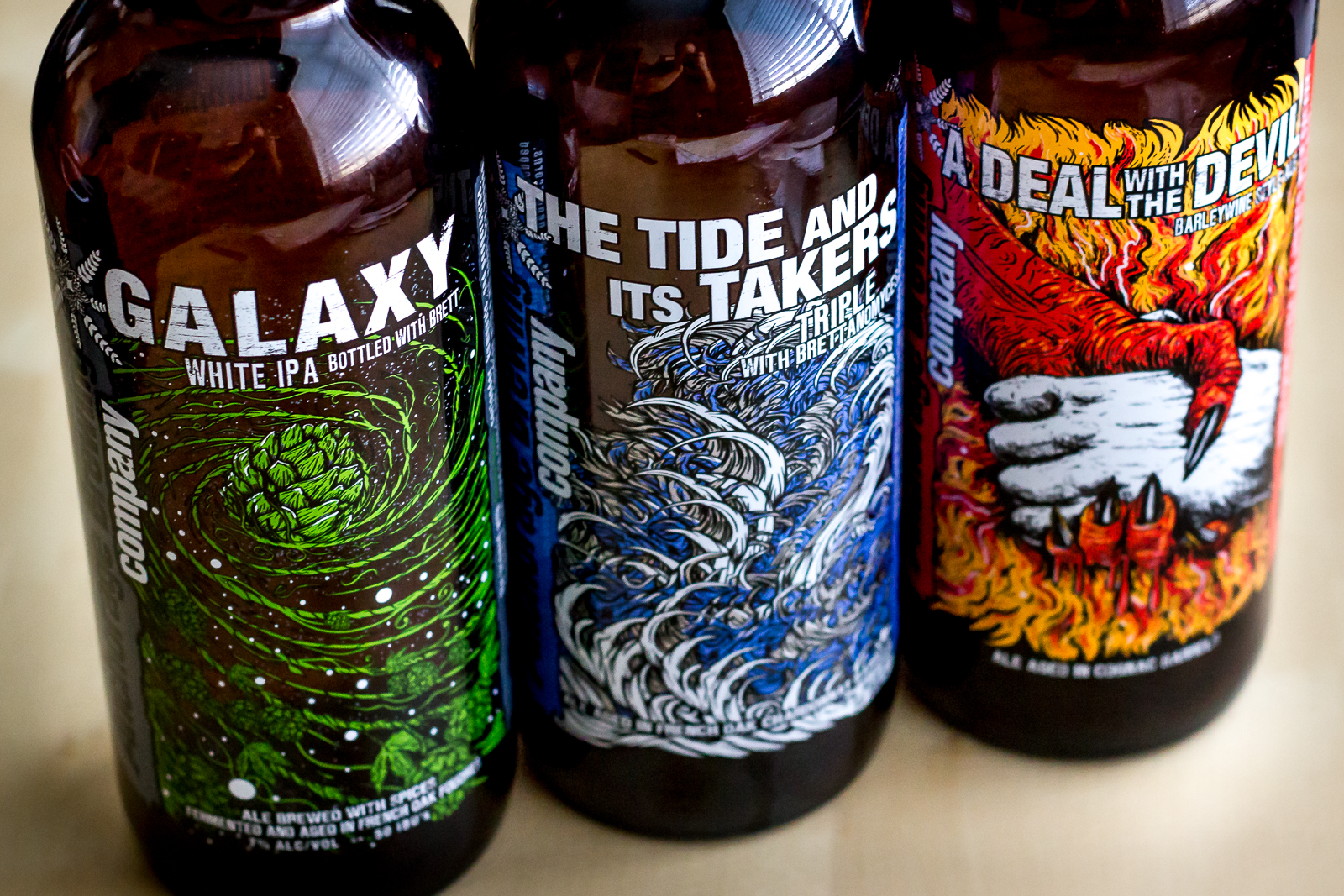 Next up (13:37) is The Tide and Its Takers. This was Matt's second beer ever from Anchorage brewing, Love Buzz being the first. This beer is based around the tripel style, and has notes of oak, pineapple, funk and fruit. It isn't nearly as bitter as Galaxy, which explains why they may have chosen to label Galaxy as an IPA.
The final beer (22:47) is definitely a contender for #WednesdayWhalezday, a barley wine-style ale called, A Deal with the Devil. This massive barley wine had a starting gravity of 37º plato (1.164 SG), and a post-fermentation gravity of 10º plato. That equates to a big beer with big body. The beer was aged for eleven months in cognac barrels, and is rich and boozy–definitely a sipper. Candied sugar, burnt brown sugar, and candied walnuts and almonds all come thorough in a big way when tasting this beer. It's great, and the hype is real!
See you next week, and as always…
BREW THE SHIT OUT OF IT.
Side note: This week's Firkfest ad was inspired by Radiolab, an awesome public radio/podcast that all the cool kids listen to.
Links to things from this week's episode:
S2/E11 Show Outline
Firkfest 2015
Subscribe to the show:
RSS
iTunes – While you're there, leave a review of 4B!
Stitcher
Thumb us up on Facebook:
facebook.com/fourbrewers
Follow us on Twitter:
twitter.com/fourbrewersshow
Got a question? Feedback? Email us:
feedback at fourbrewers dot com.
Help support Four Brewers!
Support the show on Patreon!
Donate via PayPal