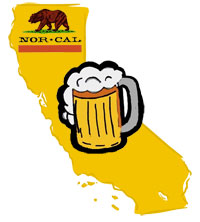 TheFullPint.com is continuing it's craft beer loving enthusiasm by letting you sound off on who you think the best Craft Brewery in Northern California is!!  With so many fantastic breweries to pick from, this should be a close one.  You may be asking yourself, "Best What?"  You might love all these breweries, but one of these breweries might be the ultimate pleaser in your mind and mouth. Go a head, pick one, and have fun.
Here is how this works. …
Pick a winner from the list OR
Write in a pick that isn't on the list, using the comment feature AND OR
Bitch and moan that you don't like this poll or that someone got left out (and not written in by you, the complainer)
This poll will go until August 27, 2009 at 5PM. EXTENDED UNTIL SEPTEMBER 2nd at 5PM!

If we get an overwhelming amount of write ins of a brewery that hasn't been listed, we might add them to the list, and talley up the current write ins. Please, just have fun with this.
Best Northern California Craft Brewery?
Lost Coast Brewing (24%, 458 Votes)
Moylans Brewing (16%, 311 Votes)
Blue Frog Grog & Grill (11%, 220 Votes)
Russian River Brewing (11%, 217 Votes)
Bear Republic Brewing (10%, 190 Votes)
North Coast Brewing (6%, 119 Votes)
Sierra Nevada Brewing (4%, 84 Votes)
FiftyFifty Brewing (3%, 63 Votes)
Lagunitas Brewing Co. (3%, 58 Votes)
Anderson Valley Brewing (2%, 47 Votes)
Mad River Brewing (2%, 37 Votes)
Anchor Brewing (1%, 17 Votes)
Rubicon Brewing (1%, 16 Votes)
21st Amendment Brewing (1%, 14 Votes)
Eel River Brewing (1%, 11 Votes)
Mendocino Brewing (1%, 10 Votes)
Moonlight Brewing (0%, 9 Votes)
Auburn Alehouse (0%, 8 Votes)
Speakeasy Ales and Lagers (0%, 8 Votes)
Sacramento Brewing (0%, 6 Votes)
Marin Brewing (0%, 4 Votes)
Valley Brew (0%, 4 Votes)
Mt. Shasta Brewing (Weed Ales) (0%, 4 Votes)
Drakes Brewing (0%, 3 Votes)
Triple Rock (0%, 3 Votes)
Black Diamond Brewing (0%, 2 Votes)
Sudwerks (0%, 1 Votes)
Bison Brewing (0%, 1 Votes)
Buffalo Bill's Brewery (0%, 1 Votes)
Magnolia Brewing (0%, 1 Votes)
Devil's Canyon Brewing (0%, 0 Votes)
Iron Springs Brewing (0%, 0 Votes)
Total Voters: 1,926
Loading ...