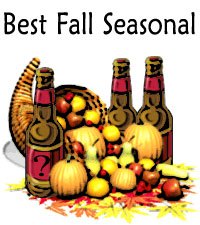 More than any other season of the year, Fall gets an overwhelmingly large amount of seasonal beers. Whether it be Oktoberfest Beers, Pumpkin Ales or even Hop Harvest beers, the shelves are packed with these seasonal treats.
No doubt, you hold one of these listed beers near and dear to your heart.  With that said, we are asking you, what do you believe to be the Best Fall Seasonal Beer?
Poll closes October 15 at 5:00 PM CA Time.
The Rules
You may pick one of these beers from the list.
You may write in a vote using the comment feature at the bottom of this post. A complaint doesn't equal a write in.
15 write ins for a beer will put that beer on the list that isn't originally on there.
You can "rally the troops" on Facebook and Twitter.
Don't cheat.
If you are having problems voting, please contact us by using our contact form.
Best Fall Seasonal Beer?
The Bruery Autumn Maple (23%, 235 Votes)
Kona Pipeline Porter (18%, 182 Votes)
Avery The Kaiser (13%, 134 Votes)
Southern Tier Pumking (8%, 82 Votes)
Dogfish Head Punkin' (6%, 56 Votes)
Founders Breakfast Stout (5%, 46 Votes)
Karl Strauss Oktoberfest (4%, 36 Votes)
Firestone Walker Velvet Merlin (3%, 33 Votes)
Kern River Pumpkin Ale (3%, 31 Votes)
Sierra Nevada Tumbler (3%, 30 Votes)
Surly Surlyfest (3%, 27 Votes)
Port Brewing High Tide IPA (2%, 25 Votes)
Wachusett Oktoberfest (2%, 22 Votes)
Weyerbacher Imperial Pumkin Ale (1%, 15 Votes)
Shipyard Smashed Pumpkin (1%, 14 Votes)
Alesmith Evil Dead Red (1%, 12 Votes)
Cigar City Good Gourd (1%, 11 Votes)
Three Floyds Munsterfest (1%, 8 Votes)
Terrapin Pumpkinfest (1%, 7 Votes)
Great Divide Fresh Hop (1%, 6 Votes)
Bootleggers Pumpkin Ale (1%, 6 Votes)
SmuttyNose Pumpkin Ale (0%, 5 Votes)
Bell's Best Brown Ale (0%, 5 Votes)
Peak Organic Fall Summit (0%, 4 Votes)
Boulevard Bob's '47 Oktoberfest (0%, 4 Votes)
Flying Fish Oktoberfish (0%, 4 Votes)
Magic Hat Ourtoberfest (0%, 4 Votes)
Erie Fallenbock (0%, 4 Votes)
Heavy Seas Marzen (0%, 3 Votes)
Full Sail LTD 03 (0%, 2 Votes)
Otter Creek Oktoberfest (0%, 2 Votes)
Buffalo Bills Pumpkin Ale (0%, 2 Votes)
Brooklyn Oktoberfest (0%, 2 Votes)
Long Trail Harvest (0%, 1 Votes)
Stoudts Oktober Fest (0%, 1 Votes)
Schlafly Octoberfest (0%, 1 Votes)
Short's Autumn Ale (0%, 1 Votes)
Cricket Hill Fall Festivus Ale (0%, 1 Votes)
Real Ale Oktoberfest (0%, 1 Votes)
Foothills Oktoberfest (0%, 0 Votes)
Total Voters: 1,015
Loading ...
Click here to join our mailing list.
Click here to Like Us On Facebook.
Click here to Follow Us on Twitter.