Ballast Point Sculpin IPA – Voted Best IPA!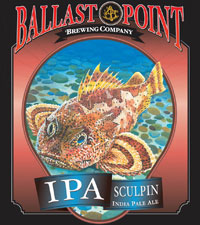 We had a close race for our Best IPA poll.  With so many tasty, hoppy dank IPAs to choose from, San Diego's Ballast Point Brewing and Spirits Sculpin IPA came out on top as the Best IPA.  While there was nothing in the rules discouraging disproportionate voting, this poll was pretty even Steven as far as online polls go.
TheFullPint.com and Ballast Point talk about Sculpin IPA winning the Best IPA poll, and we unveil the new label that The Best IPA will be wearing on a shelf near you (hopefully).
It is our expert advice that you take a good look at the nominee list and the write in votes, and try as many of these IPAs. There isn't a bad one in the bunch. – TFP
The Full Pint's Best IPA Poll Results
Here is the acceptance speech from Ballast Point Brewing.
The success of this beer proves that home brewer's dreams really do come true. A big thanks goes out to all of our loyal fans who have made Sculpin one of our most award winning beers! This news comes at a great time, as Sculpin will soon hit the stores in 6 –packs and our newly designed 22 ounce bottles are rolling off the line right now. Thanks again and yes…we are trying to make more!