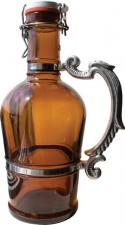 TheFullPint.com is at it again!  We want to know from you, the loyal beer drinkers and loyal readers what the Best Down South Craft Brewery is!  While a few of these breweries reside in a state that borders the Atlantic Ocean, we wanted to lump them in with the Southern Region, rather than the East Coast.  Don't be too upset, this is just for fun!
With all that said, pick your Favorite Down South Craft Brewery. If it is not on the list, you can comment on it. Rather than adding breweries due to excessive requesting (begging and pleading), we will tally up a brewery listed that wasn't put in the poll. Have fun, spread the word, and don't cheat!
UPDATE – POLL WILL BE CLOSED at 2:00 PM PDT TODAY!

Best Down South Craft Brewery?
Rahr & Sons (36%, 2,098 Votes)
Sweetwater Brewing (33%, 1,925 Votes)
Saint Arnold (17%, 1,012 Votes)
Terrapin Beer Co. (7%, 389 Votes)
Yazoo Brewing (4%, 233 Votes)
Abita Brewing (2%, 106 Votes)
Lazy Magnolia (1%, 47 Votes)
Atlanta Brewing (1%, 34 Votes)
Cigar City Brewing (0%, 13 Votes)
Dixie Brewing (0%, 10 Votes)
Diamond Bear Brewing (0%, 8 Votes)
Florida Beer Co. (0%, 4 Votes)
Dunedin Brewing (0%, 3 Votes)
Total Voters: 5,883
Loading ...