Hello loyal followers of TheFullPint.com.  We are happy to announce details on The Full Pint 10th Anniversary Celebration that will be held on August 5th, 2017 at Toronado San Diego (where we held our 7th Anniversary).  Time flew by quickly getting to year ten, and we wouldn't have made it this far without you.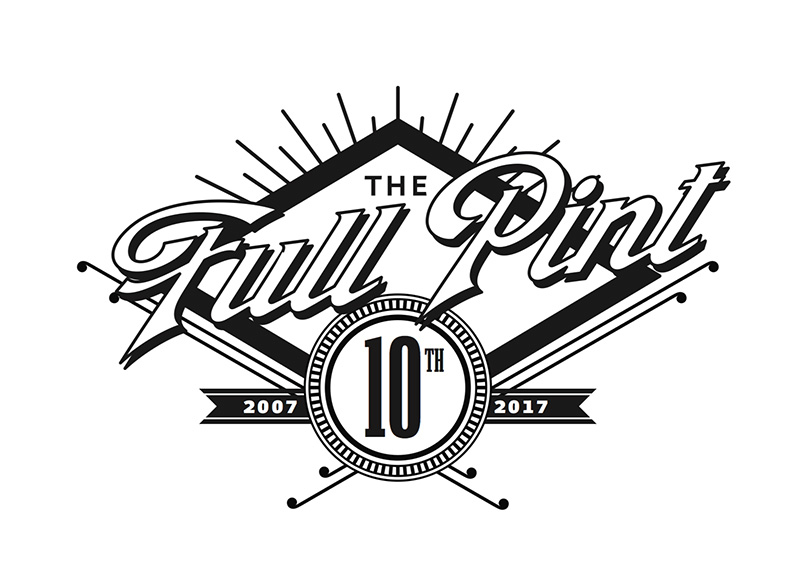 Like the last 5 years, we will be holding a very intimate celebration in which we will be pouring beers we think you will find to be interesting and delicious. We have reached out to a handful of breweries we've been working with over the years, and some exciting out of town brewers that have begun a special relationship with us by virtue of joining in on the festivities.  Please read on for details, link to tickets and frequently asked questions pertaining to the special day.  Also of note, there will be a few breweries releasing commemorative bottled or canned beers for The Full Pint 10th Anniversary, so stay tuned for those details as they become available.
What: The Full Pint 10th Anniversary Celebration – An intimate beer festival featuring custom made, rare and out of market beers.
When/Where:  Saturday August 5th – Toronado San Diego 4026 30th St, San Diego, CA 92104 VIP Session 4PM – 8PM, General Admission Session 8PM – 2AM
VIP Session Details:  The VIP Session will be from 4PM to 9PM. VIP attendees will receive 10 taster tickets, access to a hearty food spread, and will receive a commemorative glassware.  Pour sizes will vary depending on how rare/scarce the beer is, but will typically be no less than 6 oz. We will be selling just enough VIP tickets so guests will be able to sit down and enjoy these fantastic beers. Read on at the bottom for Frequently Asked Questions.  VIP Tickets will be sold via Brown Paper Tickets online and will be $85.00 plus processing fee.
LINK TO BROWN PAPER TICKETS – GOING LIVE TODAY 11AM PST
SOLD OUT
General Admission Details: No tickets are required, however you will be required to pay a $10 cover charge at the door which will give you a piece of commemorative glass (while supplies last) and access to all the rare beer being poured. You will pay as you go for beer and food.
Tentative Participating Breweries (A few more to come)
(Please note, we have every intention to pour all listed breweries on the day of the event. Should a brewery have to duck out at the last minute, the list will reflect this, and you can request a refund, we know the event is still going to exceed expectations. In previous years, we have been 98% accurate, there is always one minor hiccup.)
3 Floyds Brewing – Zombie Dust
Abnormal Beer Company – Makaveli (Collab with J.Wakefield and Mostra Coffee)
Abnormal Beer Company- Breaking News – Custom West Coast IPA for this party
Arts District Brewing (Collaboration made for The Full Pint 10th Anniversary)
Bagby Beer Company – Sweet Ride (Bohemian Pilsner)
Barrelworks – De La Casa Full Pint Blend 2017 2 yr old Flanders Red Aged in a French Oak Port Wine barrels with Sichuan Pepper CornsSpecial blend made for The Full Pint 10th Anniversary
Beachwood Brewing – The Scul Pint – Custom Made IPA for TFP 10
Boneyard Beer –  Enzymatic IPA (New West Coast IPA)
Bootlegger's Brewery – Custom made beer for The Full Pint 10th Anniversary
Bottle Logic Brewing – Fundamental Observation
Brewery Rex – The Full Pint of Haze (A custom made NEIPA for The Full Pint 10th Anniversary)
Burning Beard Brewing – Wave of Phase
Cellarmaker Brewing – Manhattan Barrel Aged Vastness of Space (Imperial Stout aged in High West barrel aged Manhattan barrels for 14 months)
Chapman Crafted – Old Town Block Party IPA
Cigar City Brewing – Perfectly Okay (Bourbon Barrel Aged Dark Ale)
El Segundo Brewing Co. – Clear AF –  Collab IPA made beer for The Full Pint 10th Anniversary
Faction Brewing Company – The Full Pint 10th Anniversary IPA
Fatheads Brewery (Cleveland) – Headhunter IPA
Fatheads Brewery (Cleveland) – Benjamin Danklin IPA
Fieldwork Brewing Company – Double Dry Hopped Paulie vs. Steve (1 off beer for The Full Pint 10th Anniversary)
Great Notion Brewing – Mandela
Green Cheek Beer (Evan Price' new venture)
Half Acre Beer Company – Benthic (Bourbon Barrel Aged Coconut Coffee Stout)
Highland Park Brewery – Danbo Pils (One off commemorative beer for 10th Anniversary)
Highland Park Brewery – Help Yourself
Horus Aged Ales – Boss Tycoon (Collab w/ J. Wakefield)
Horus Aged Ales – TFP 10 #BiL Blend
Homage Brewing – Kriek Homage
J. Wakefield Brewing
Jester King Brewery – Colour 5 (a blend of barrel-aged, sour beer refermented with Texas blueberries!)
La Cumbre Brewing – El Jugo
Listermann/Triple Digit Brewing – Maple Barrel Aged Chickow
Maui Brewing Co.- Skull Island (Whisky barrel aged Imperial Stout)
Modern Times Beer – Mango Hedgewitch – One off  NEIPA for TFP 10
Monkish Brewing Co. – Foggier Window DIPA
Mostra Coffee – Project X – Saigon Cinnamon, Brazil Cacoa Nibs, Tahitian Vanilla Bean Cold Brew Coffee
Mumford Brewing – I Do Adequate (Commemorative 1 off beer for this party)
New Realm Brewing / Refuge Brewing – Sweet Baby Jesus Triple IPA
Noble Ale Works – Countout – Custom made NEIPA for this party
Offshoot Beer Co. – Hops & Rec (Double NEIPA w/ Simcoe, Mosaic & Cashmere)
Pipeworks Brewing Company – Fairy Basslet (Imperial IPA w/ Pineapple, Honey & Citra Hops)
Pizza Port Brewing Co. – Executive Member –  Custom made IPA for The Full Pint 10th Anniversary
Pure Project Brewing
Russian River Temptation
Sante Adairius Rustic Ales – Appreciation
Side Project Brewing – Saison du Blé
Silva Brewing – Danny's Golden IPA
Simmzy's Burbank aka Brian Herbertson aka Sikk Brew Co – Commemorative 1 off for The Full Pint 10th Anniversary
Ska Brewing
Smog City Bourbon OE Vintage TBD
State Brewing Co. – Job Guy DIPA (Collaboration with The Full Pint)
Stone Brewing – The Full Pint 10th Anniversary Cookie Stout
TAPS Fish House & Brewery Brea – Barrel Aged Hi-Croixson (Eagle Rare & Buffalo Trace Barrel Aged Imperial Stout with Madagascar Vanilla Beans and Bodhi Leaf Coffee)
The Bruery – You Know What Time it Is (Commemorative 10th Anniversary Beer)
The Rare Barrel – Cherubs Blend –  Custom TFP 10 Blend
Tired Hands Brewing TBA Collaboration IPA
Yorkshire Square Brewery – Early Doors (3.5% Pub Bitter on cask)
*Are you a brewery not listed on here, and you feel a little hurt by this? It aint like that. Email your friendly TFP representative today so we can work something out.
Frequently Asked Questions/Great Tips for The Full Pint 10th Anniversary
Q: What will the pour sizes be?
A: On average, 6 oz.
Q: What if I run out of taster tickets during the VIP Session?
A: You can purchase additional pours from the service staff.
Q: If I am a VIP session attendee, can I stick around for the General Admission session?
A: Yes you can, although this will slow down the flow of letting in guests for our General Admission session, as we are constrained by our occupancy limit.
Q: What time should I get in line for General Admission?
A: In previous years, General Admission guests line up a few hours before the session begins, some line up at the beginning of the VIP session?
Q: Will there be commemorative apparel for sale?
A: There certainly will be.
Q: Where should we stay?
A: There are plenty of hotels near North Park, the closest one being The Lafayette 2223 El Cajon Blvd, San Diego, CA 92104.
Q: I know Danny, I know Nate, I'm Jonny Fullpint's biological daddy, can I have a comped VIP ticket?
A: No.
Q: I work in the industry and expect to be comped for this.
A: Don't expect this, we have a limited capacity and want to reward our paying guests with the best time possible. We still encourage you to join us, we'd love to have you.