Quite the Heirloom – Espadín Copper Flasks
Classy by god, very classy… We were introduced to the guys who just launched their Espadín Sertodo Copper Flask  on Kickstarter. At first I didn't quite understand, as The Full Pint is presented with flasks and canteens all the time. We love portable drinking vessels as much as the next guy (or gal) but what makes these Sertodo Espadín flasks so special? This is exactly what I asked the founder, so they sent me one in the mail to see for myself. After unwrapping this flask, I felt like I had a real handmade product in my hand as opposed to a mass produced, branded canteen or flask. This is something that will catch other people's eyes and this is something I can pass down to my nephew when he is of age to sneak in some of grandpa's cough medicine or a nip of that sweet, sweet barleywine into the baseball game. Not many people are producing what you would consider an heirloom these days, but Sertodo has done just that.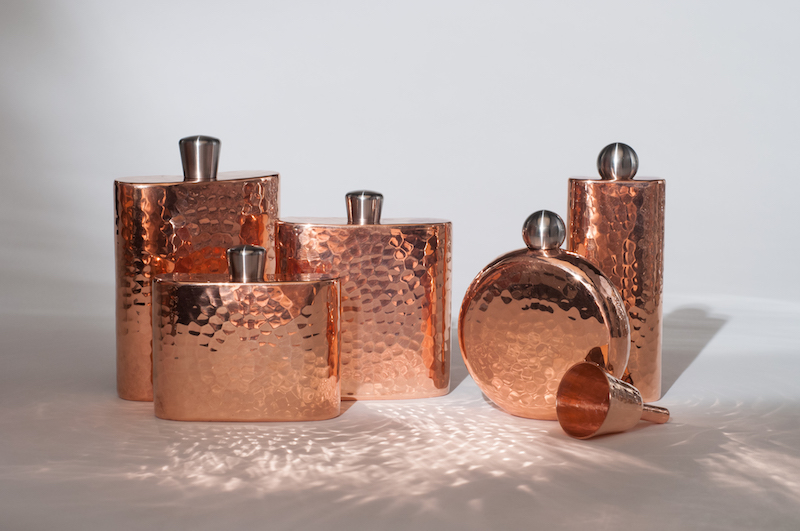 (AUSTIN, TEXAS) — Sertodo Copper invites you to raise a flask and elevate your spirits with its latest line of artisan copper products. Sertodo Copper is launching its Espadín Flask series in conjunction with a new 10,000 square foot workshop in Michoacán, Mexico. Thirty full time artisans, representing generations of skilled craftsmen, craft the Sertodo line, which has been featured nationally in Oprah's Favorite Things, Garden & Gunand Vogue.
"First time I drank mezcal, it was poured out of an old metal gas can in Oaxaca in the early 1990's. It was smokey delicious, and gave a good buzz. These Espadín Flasks are a nice, elevated twist on that original experience," said Jonathan Beall, founder and owner of Sertodo Copper.
Sertodo Copper recently launched a Kickstarter campaign for the Espadín Flasks, which will be the first product from the new, expanded Michoacan workshop.
The goal of Sertodo Copper's Kickstarter is to invest in the tooling and equipment, such as shears, hydraulic presses and cutting dies, needed for an improved work environment and more efficient production processes that will allow Sertodo's team to focus more energy on their craft and quality.
Sertodo Copper is an international cooperative of master copper artisans, with workshops in Austin, Texas and Santa Clara del Cobre, Michoacán, Mexico. The heart of Sertodo's vision blends modern styles and process with artisan craft and deeply rooted traditions going back to the ancient times of the region.
Jonathan Beall, Sertodo Copper's founder "burned all his business papers" New Year's Eve 1999 and moved down to Mexico to apprentice with a master copper artisan. The dot.com company he worked for had gone bust and cut severance checks instead of big stock option bonuses.
"We've come a long way from making copper goods in a dirt floor shop and selling them from the back of a truck," said Beall. Today, SertodoCopper employs over 35 full time staff between two shops in two countries, creating, customizing, and distributing over 3,000 copper pieces per month to satisfied customers throughout the world.
"In this world of mass production and automated labor, Sertodo Copper supports a dignified approach to work and business and that approach can be mutually beneficial for all parties involved. Good business has vast potential for bringing understanding and cooperation between cultures," added Beall.
With the new Espadín Flasks, Sertodo Copper also invites craft spirit aficionados an opportunity to elevate their spirits.
# # #
KICKSTARTER: https://www.kickstarter.com/projects/601709026/sertodo-copper-espadin-flasks?ref=email
FACEBOOK: https://www.facebook.com/sertodocopper/
INSTAGRAM: https://www.instagram.com/sertodo_copper/
WEBSITE: http://sertodo.com
This post was sponsored by Sertodo Copper. If you are interested in sharing your products with the readers of The Full Pint, please contact us at [email protected]