Have Lost Abbey Track 10 + The Freshest El Segundo Hop Bombs Delivered to Your Door
Our partners over at InsideTheCellar.com are back this week with some true California Love.  They have the re-released Lost Abbey Track 10, a favorite of 2013's Ultimate Box Set Series, as well as some fresh hoppy ales from El Segundo Brewing. How fresh are we talking? It will go from bottling line on 1/29/15 into a shipping box and sent to your door.  Now that's fresh!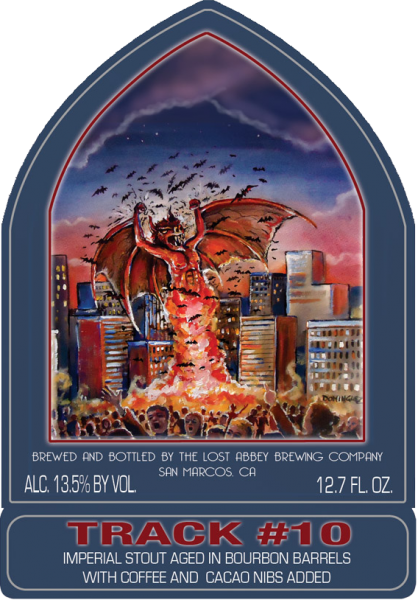 Lost Abbey Track 10 – Late in November of 2011, Mike Rodriguez our head brewer asked about creating a Coffee and Cacoa Nib version of Serpent's Stout for the San Diego Strong Ale Festival. The beer was a hit with our fans. When we wrote up the syllabus for the Ultimate Box Set, we knew a version of this beer would be included. We waited until the very end of the release schedule to put this beer in a bottle so that the coffee and cacoa nibs really come through. Four Bourbon barrels were selected for their rich and dense chocolate flavors. One week before packaging, we added 17 lbs of Ryan Brothers Coffee and 4 lbs of TCHO Cacao Nibs were added to the coffee and cacao to steep before packaging.
CLICK HERE TO PURCHASE LOST ABBEY TRACK 10
El Segundo Hop Tanker DIPA – FRESHIES CLUB – To be bottled 1/29/15 – Any orders containing this brew will ship out on the bottling date. Two-row malt, meet Nelson Sauvin and Citra. Fast friends indeed. As sleek as a 9% DIPA can be with the sharp hop tone of lemon peels filled in by orange marmalade and just utter dankness. And you thought those tankers off-shore were just unloading crude… 2 pounds of dry hops per barrel. That's right. 9% ABV
CLICK HERE TO PURCAHSE FRESH EL SEGUNDO HOP TANKER DIPA
El Segundo Citra Pale Ale – FRESHIES CLUB – To be bottled 1/29/15 – Any orders containing this brew will ship out on the bottling date. The base is very similar to the very straightforward Blue House Pale Ale. We swap our the crystal malt for some vienna, and then after fermentations we add an insane amount of Citra for a Double Dry-hop. The result? A hop monster with a whole lotta citrus aroma up in yo face! This beer is a real crowd pleaser because of its up front fruitiness, and restrained bitterness. We often find that people who don't even like "hoppy" beer love it! Give it a sample, and find out the glory that is the Citra hop.
CLICK HERE TO PURCHASE FRESH EL SEGUNDO CITRA PALE