Have Modern Times City of the Sun, Japanese Green Tea IPA + More Shipped to Your Door
Happy Friday my thirsty friends! We are back today with another killer lineup from InsideTheCellar.com.  For those craving that west-coast style of beer, you are in luck today, as we bring you fresh Modern Times City of the Sun, Baird/Ishi/Stone Japanese Green Tea IPA and the just off the bottling line El Segundo series of IPAs.  Get your hops and get them now!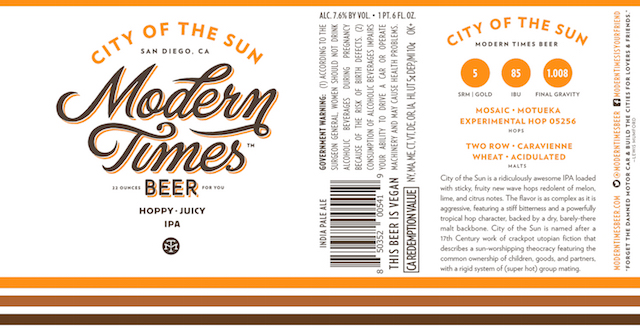 Modern Times City of the Sun – City of the Sun is a big, fruity, pungent, sticky, delicious IPA. Mosaic & Motueka give it a very fruity hop character, with Simcoe providing enough of a piney backbone to prevent it from going off the deep end. The complex but unobtrusive malt character gives it a medium body and a platform for the saturated hop flavor. ABV: 7.5% IBU: 85
CLICK HERE TO PURCHASE CITY OF THE SUN
Baird/Ishi/Stone Japanese Green Tea IPA – Heavy doses of Crystal and Australian Helga hops, accompanied by the Aramis variety from France, provide a wonderful, spicy, and fruity hop character that blends exceptionally well with the herbal and grassy sencha tea flavors. The very late addition of Japanese Sorachi Ace hops provides hints of citrus and dill. Aside from switching out the Pacifica hops for Helga hops, we kept the recipe the same. The ABV on this re-brew is slightly higher than the 2011 release because of the annual changes in malt enzyme strength and variability with the yeast. This was one of our team's all-time favorite Stone collaboration brews and we are thrilled to be brewing it again. ABV: 10.1% IBU: 75
CLICK HERE TO PURCHASE JAPANESE GREEN TEA IPA
El Segundo Brewing Freshies Club – InsideTheCellar.com and El Segundo Brewing have teamed up to bring you the freshest possible IPAs, from the tank to your glass in so many words.  For those not familiar with El Segundo Brewing, they are a young IPA centric brewery in Los Angeles. In a short amount of time, El Segundo has captured the hearts and palates of Southern California with levels of hops that would make even San Diego flinch. Here is your chance to get fresh Mayberry IPA and Blue House IPA.
CLICK HERE TO PURCHASE FRESH EL SEGUNDO IPAS (Bottled today!)