Vote For The Best Beer on Election Day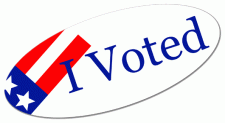 Meet The Candidates
Westvleteren 12 – One of the most sought after beers in the world. A true Trappist Ale. A highly regarded beer in both large beer communities (BA and RB). Just recently was imported to the US, making it slightly easier to obtain.  Ranked #1 on Ratebeer and Beer Advocate's top beer list.
Russian River Pliny The Younger – A beer that doesn't show it's head around but for a month out of the year, this is the gold standard for "Triple" IPAS. Ranked #2 on Ratebeer and Beer Advocate's top beer list, although reviewed less than it's opponents.
Three Floyds Dark Lord Imperial Stout – Another beer that hovers at the top, this beer has over 1000 ratings on Ratebeer, is highly sought after on the trading block year after year, and draws a crazy crowd once a year at the brewery its made at (3 Floyds Brewing).
 Voting instructions: Please select one of the three candidates on the poll.  You may also write in a vote, which will be tallied. Polls will remain open until 8PM PDT.
[poll id="28″]