Best Craft Beer of 2011?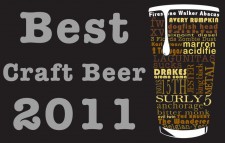 2011 was no doubt a tasty year for new craft beers hitting the scene. While we anticipate this being a very tough decision for you to make, we are here to ask you, the loyal reader/follower of The Full Pint….what is the Best Craft Beer of 2011? We've comprised a poll of nearly 50 nominees that we feel meet our criteria for initial nomination. Simply, to be eligible, the beer must have been introduced to the public in 2011, and in most cases, made it's bottled/canned debut in 2011.  A quick check on ratebeer.com can give you a good gauge on when a beer was born, piloted then introduced. Poll ends January 26, 2011 5PM PST THE RULES
You may vote once, by selecting one of the beers on the list.
Should the beer you want to vote for not be on the list, you may write it in IF..
The beer made its debut in 2011.
"Rallying the troops" is encouraged. Tell your friends on Facebook and Twitter.
Please don't cheat. If you are having troubles, please contact us.
Cheering on a beer doesn't equal a vote. A complaint doesn't equal a vote.
If a particular beer gets written in multiple times, we may add it to the list with tally.
[poll id="24″]