Best American Made Sour?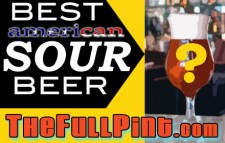 Time to pucker up! You may have noticed the trend of more and more sours made here in the US.  Whether it be an homage to Belgian lambics, or something extreme and experimental, brewers are taking notice of our love for sours and our options have never been better.
We'd like to know from you, What's the Best American Made Sour?  We don't care if it's a Berliner Weiss, an All-Brett Ale, or a bugged out Fruit beer, if its made in America, sour and or tart, it's fair game. May the Best American Made Sour win! You have until June 14, 2012 5PM PST to vote. Below are the rules and tips on participation. Cheers!
You may select from the list of nominated American Made Sours Below.
Any beer not on the list may be "written in" by using the comment feature at the bottom of this page.
In order for your write in to be eligible, it must be A) Brewed in the U.S. and B) Must be sour and or tart.  A beer can be sour with Brett, but a Brett beer isn't necessarily sour.
A complaint doesn't equal a vote.
If a write-in starts making progress, that beer will be added to the poll as an option, and we will tally those votes to reflect it's standing in the poll.
Our 'Poll System 'tracks by IP address, so if your buddy in the cubicle next to you votes, you may not be able to cast your vote on that same network.
You can rally up as much support as you'd like through Facebook, Twitter, Google +, MySpace, Friendster, Reddit, etc.
If you still need help, or have any questions, please reach out to us via our Contact Form.
[poll id="25″]