Dry Diggings Festival September 25-25 in Placerville,CA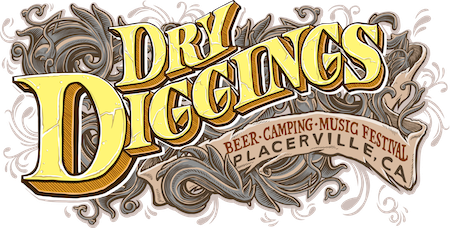 California Roots Presents, the organizers for the Monterey,CA-based California Roots Festival have announced three additional artists to complete the lineup for the inaugural Dry Diggings Festival, September 25-26, 2015. The event will be held over two days in Placerville, at the El Dorado County Fairgrounds.  Festival attendees can now purchase single day tickets for either Friday, September 25th or Saturday, September 26th or for the entire festival experience including camping online or at several regional ticket outlets. There is a VIP Festival experience pass on sale that allows pass holders access to a VIP lounge and more.  The event will feature 23 bands and 30 different vendors.
All ticket holders of legal drinking age can sample a wide variety of beers in from four premier breweries; Sierra Nevada Brewing, Lagunitas Brewing Co., Altamont  Beer Works and Firestone Walker Brewing Co.. the Dry Diggings Festival beer partners who will host two hours of free beer tasting on Saturday, September 26th. There will also be a 'Panning for Gold' Beer Pong Tournament as well as a 'Dry Diggings Cornhole Tournament' featuring a game that originated in Germany in the 14th century.
Music groups on the Dry Diggings lineup include many that fall into the category of West Coast style reggae.  On Friday, San Diego-based Tribal Seeds will headline the festival and perform   reggae with rock influences and messaging that reflect a raised awareness of the world around us in a combination that has led the band to the top of the sales charts.  Also performing on Saturday, coming from the island of Bermuda is Collie Buddz, an artist who presents hip-hop influenced reggae music after exploding on the scene in 2007 with his chart-topping "Come Around" that was a worldwide hit.  Stick Figure has been added to the Friday lineup as part of the current wave of "West Coast Style" reggae, the band blends upbeat tempos with the heavy vibes of dub music in a multilayered sonic experience.  Mike Love joins the lineup coming from the island of Oahu in Hawaii.  Mike sings lyrics from the heart and switches from guitar and keyboards during his set.
On Saturday, the headliner is the six piece unit known as the Dirty Heads whose rock-influenced reggae includes hip-hop and ska elements, all of which stem from the band's Orange County, California roots.   Hawaii-based Nahko and Medicine for the People blend rock, folk and world influences with reggae music and thought-provoking lyrics about self-discovery with an underlying current of social change that have helped this group build a devoted following.  Samoan vocalist originally from Compton, California JBoog will perform on Saturday bringing the Pacific Island reggae sound to Dry Diggings.  Since his debut EP 2011 release: Backyard Boogie, his distinctive soul-influenced voice and songs, (some of which were recorded by top Jamaican producers)have taken him on tour around the world including throughout the Pacific Rim. Representing Jamaica on the Dry Diggings lineup on Saturday is Don Carlos, a veteran singer whose deep roots vocal style influences the West Coast Reggae genre directly and was first noted on a global scale when he was in the groundbreaking 1970's reggae group Black Uhuru.  Don Carlos tours the world including several dates a year with Slightly Stoopid as a special guest vocalist.
These artists are part of a roster of over 20 acts that will be performing at Dry Diggings Festival held at the 6,000-capacity El Dorado County Fairgrounds in Placerville outside of Sacramento in the Sierra Nevada foothills. On Friday, September 25th the full current lineup includes: Tribal Seeds, Collie Buddz, Stick Figure, Mike Love, Josh Heinrichs, Thrive, Mystic Roots, Skanks Roots Project. On Saturday, September 26 the lineup includes: Dirty Heads, Nahko and Medicine for the People, JBoog, Don Carlos, Zion I, Through the Roots, Hirie, Seedless, Inna Vision, Makua Rothman, Arise Roots, Leilani Wolfgramm, Element of Soul and Brodi Nicholas.
This is a sponsored post. Would you like to let a very focused craft beer loving audience know about your amazing upcoming festival? Drop us a note at https://thefullpint.com/contact-us