Four Brewers | Workin' Out the Bugs
Season 1, Episode 1 – Anchorage Brewing's Rondy Brew Saison w/Lemongrass and Brett kicks off the inaugural episode of Four Brewers.
[Player above not working? Download here.]
Welcome to Four Brewers! Four Brewers is a new podcast from Matt Becker, John Holzer, Jason Harris, and Greg Nagel that celebrates craft beer and homebrewing.  This week on the show, we're celebrating our collective return to the interwebs, and welcoming our newest member, Greg, to the show by opening some really special brews: A saison from Anchorage Brewing Company called "Rondy Brew," and a wonderful sour from The Lost Abbey called "Veritas 007." As with all new ventures, we're working out the bugs of doing a new show (bugs, beer, title of the episode, get it ?…heh), and getting a feel for the overall flow.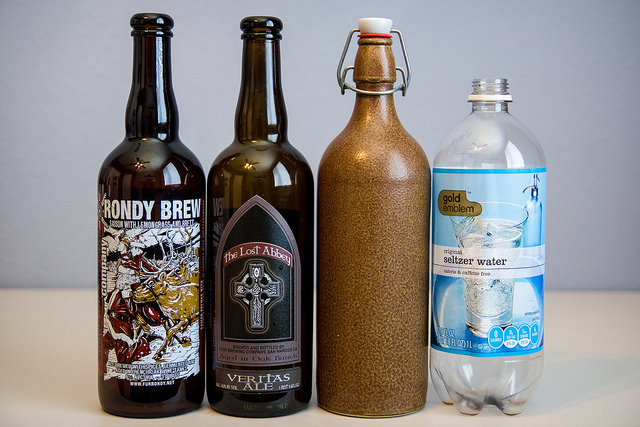 Feature: From the Cellar – Lost Abbey Veritas 007 – Sour Blend w/cab franc grapes.
Matt brought a bottle of Veritas 007 from The Lost Abbey to celebrate the first episode. In short, it was awesome.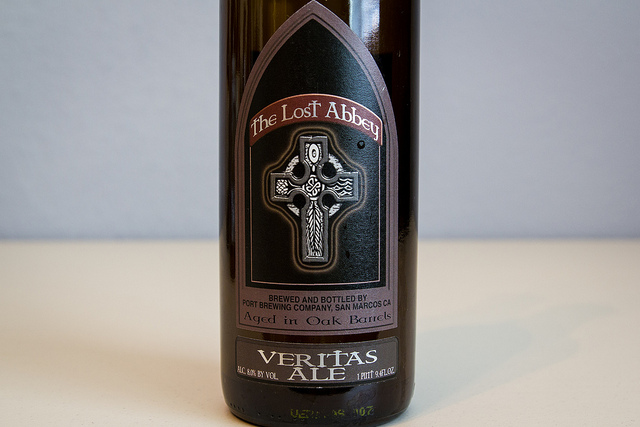 Feature: Homebrew – Nagel's Soured Dunkelweizen
Greg Nagel brought some of his Dunkelweizen to share on the show. Half of the batch was fermented in the standard, yet not-so-typical way, and the other half went way of the sours.
Base beer: Metheweizen 60% Wheat, 40% German Pilsner, Rice Hulls, .5 lb Blackprinz at vorlauf, 20 IBU Hersbrucker hops, WLP380 German Hef IV. Mash temp to desired mouthfeel, ferment at desired temp to obtain banana/clove flavors/aromas. The beer sampled in this episode was mashed at 154º and fermented at 85º-90ºF. Previous batches at 74ºF were more pleasant and to style.
Sour beer: Nervous Breakdown (base beer on Roselare yeast cake and bugs from a Lil' Opal contributing barrel at Barrelworks)
Thanks for listening and enjoy the ride. Cheers!
Subscribe to the show:
RSS
iTunes – While you're there, give a review of the podcast!
Stitcher
Thumb us up on Facebook:
facebook.com/fourbrewers
Follow us on Twitter:
twitter.com/fourbrewersshow
Got a question? Feedback? Email us:
feedback at fourbrewers dot com.
Help support Four Brewers!
Donate via PayPal