Anchorage Love Buzz Saison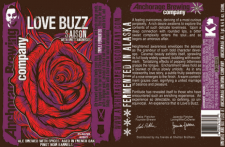 From Anchorage Brewing – Saison brewed with brett, spices and aged in French oak Pinot Noir barrels.
Anchorage Brewing – Anchorage Love Buzz Saison – 750 ml. bottle poured into a goblet. 8% abv.
Appearance: Pours a hazy amber gold with a thin cap of white.
Aroma: Big wine barrel. Fruity spicy yeast. Pineapple perfumy brett
Taste: Tangy grape, spicy brett, peppercorn. Finishes jammy/ fruity.
Mouthfeel: Juicy. Full bodied. Rough carbonation.
Overall: A very tasty beer, but was expecting it to be a little drier, the way I like my Saisons. I've been told that the first batch was much drier, and have hopes of trying this beer again.