O'Brien's Pub – Belgian Beer Party this Weekend!!!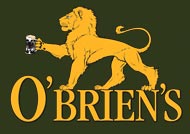 Hello Beer Fans!
The chaos of St. Patrick's day is behind us and there is plenty of great beer coming up.  We still have 4 triple IPAs on tap as of this morning – Alpine Exponential Hoppiness, Moylan's Hopsickle, Avery Maharaja and Port Hop 15.  This is all in addition to Russian River Pliny the Elder, Alpine Pure Hoppiness and Karl Strauss To the 9's Double IPA.
If you can't make it by in the next few days to enjoy these hoppy beers, look for Alpine Nelson Rye IPA and Bear Republic Apex IPA to be on tap soon.
Belgian Beer Party
The big event this week is the Belgian Beer Party at Pizza Port Carlsbad on Saturday, March 27th.  The festival is split into two sessions – 10 am to 4 pm and 5 pm to 11 pm.  Each session will have the same great line up of beers.  There will be more than 100 beers available and after working on the list today, I can tell you that there are some truly amazing beers that will be served.  Tickets are $40 each and can be purchased through the Pizza Port website at www.pizzaport.com or at www.ticketderby.com.  Tickets should be available at the door for both sessions, but ticket sales are limited, so if you plan on going, buying in advance is your best bet (it will also save you a few dollars).  There will be rare beers from Cantillon, six of the seven Trappist breweries, Russian River, Oud Beersel, Drie Fonteinen, Jolly Pumpkin, De Ranke, Allagash, Avery, De Dolle, Boon and many more!  Don't miss one of the best collection of Belgian ales in the country.
This Week at the Pub
Back on the pub front, look for some great Ballast Point beers on tap on Wednesday, March 24th.  We will have Tongue Buckler, Victory at Sea and hopefully a nitro-tapped keg of Sextant Oatmeal Stout.  Thursday the 25th we continue the Ballast Point theme with a cask of Big Eye IPA at 5 pm.  Our Malheur draft launch that was tentatively set for the 25th has been moved back one week until Thursday, April 1st.  For Belgian beer fans, we will have a keg of Konigshoeven Quadrupel on tap.  We'll also be filling up the new 3 liter La Trappe glass for the first time on the 25th.
Friday the 26th we will start to tap some Belgian ales in honor of the Belgian Beer Party.  Look for a rotating line up of Belgian ales all week from the 26th until April 3rd.  We'll also have some new bottles out for Friday including two new Redstone Meads: a Red Pyment and White Pyment.  Pyment is a special type of mead (honey wine) that is made with the addition of grapes – in this case one with white grapes and one with red grapes.  We will also have the popular Redstone Vanilla Bean and Cinnamon stick back in stock.  We'll also have two rare bottles from Dogfish Head – Burton Baton, a blended, strong, hoppy ale that is aged with barrel staves and Red and White, a strong wit-style beer blended with pinot noir grape juice.  Right now we have the new Avery Tot, which is a rum barrel aged stout and several of the fantastic St. Peter's English ales available.
The US women's soccer team plays against Mexico on Sunday, March 28th at 2 pm at USD.  Our local American Outlaws chapter (www.theamericanoutlaws.com) bought a block of seats and we still have a few available.  Tickets are $23 and you can just email me if you are interested.  We will be meeting at the pub beforehand and then going down to the game at USD's Torero stadium, which is a great place to watch any sporting event.  The Champions League resumes on March 30th and 31st for the quarterfinals.  And we will have the MLS Direct Kick package this year and we will be able to show nearly every single MLS game.  If you want to see a list of our upcoming games, just visit our website and click on the soccer link on the news page.  You can also sign up for our soccer specific emails by emailing me.
Beer and Cheese
Our Beer and Cheese Pairing with Taste Cheese Shop will be happening on Sunday, April 18th at O'Brien's at 6:30 pm.  The class on the 21st at Taste in Hillcrest is no longer taking place.  We are about half full for the class on the 18th already, so I expect it to sell out.  When we set the final pairings I will pass along info about the beers and the cheeses.  You can sign up at the pub for the class on the 18th.  Cost is $40 (cash only please).  These classes are always a lot of fun and even manage to be a little educational to boot.
Looking Ahead
Next week we kick off with our great Monday Night Pitcher Special on March 29th – $10 pitchers of craft and local beers and $14 pitchers of strong/rare beers.  This happens every Monday night from 4:30 pm until closing all year round.  We also feature our beer battered Fish and Chips, Chipotle Fish Sandwich and Fish Tacos every Sunday and Monday.  Next Thursday, April 1st we will have Stone IPA on cask at 5 pm.
Our big Malheur draft launch party is now scheduled for Thursday, April 1st (no fooling!).  We will have both 10 and 12 on tap along with Brut and Dark Brut in the bottle.  I have been assured that we will have enough of the 10 and 12 draft to keep it on tap all weekend – no matter how much you all try to drink.  Malheur is one of my favorite Belgian breweries and I am very proud to be launching this beer on draft in the USA with them.  We recently visited the brewery on the Great Belgian Beer Tour and having tasted both the 10 and 12 on draft there, I can tell you that you will not be disappointed.  We will tap both kegs at 5 pm and keep the beer flowing all night long.  Lindsey will have some great specials from the kitchen and we should have a cheese plate to pair with the Malheur beers.  If you can't make it by on Thursday, we will have plenty of kegs to make it through the weekend, so stop by and enjoy these great beers.  We'll be tapping some additional Belgian beers including some likely left over draft beers from the Belgian Beer Party on Friday, April 2nd.
The pub will be CLOSED on Sunday, April 4th for Easter.  We will be open normal hours on Saturday the 3rd from 11:30 am until midnight and will resume normal hours on Monday, April 5th.  Look for Ballast Point Sculpin IPA on cask on Thursday, April 8th.
That is your good beer news for now.  I look forward to seeing many of you up at the Belgian Beer Party this weekend!  Cheers, Tom
Tom Nickel
O'Brien's Pub
20 Taps – Tons of Hops
Official US Soccer Bar
4646 Convoy Street
www.obrienspub.net