Massive Misfortune Befalls O'Brien's Pub!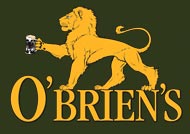 Thursday, April 1st we host the US draft launch for Malheur 10 and Malheur 12 at 5 pm.  The brewery name Malheur translates to "misfortune" – many Belgian brewers have names that are a play on words.  So we will have massive amounts of this wonderfully "misfortunate" beer on tap for you Thursday night.
Sorry if the subject line scared you, but I had to have a little fun for April Fool's Day.
Malheur Launch
Malheur is one of my favorite European breweries and was perhaps the best stop on this year's Great Belgian Beer Tour.  O'Brien's is the first establishment in the USA to tap this beer, so this is a very special night for us.  The Malheur 10 is lightly malty, strong golden ale that is 10% abv.  The 12 is a massive dark strong ale that is appropriately enough 12% abv.  It compares to the finest dark Trappist ales from Chimay, Rochefort, Westvleteren and Konigshoeven.  In addition to the two beers on tap, we will also have a full selection of bottles – Malheur 10, 12, Brut and Dark But – and some very rare Malheur bottles – Malheur 6, Malheur 2006 Commemorative Brut (a dry-hopped version of this wonderful champagne-style beer) and a very limited amount of Malheur 2003 Black Chocolate, which is the original name of the Dark Brut.  So 7 different beers (which is lucky) on a day that is bound to make you foolish!
In addition to the great beer, you know that the kitchen will be cooking up some great food.  Lindsey is making a Beer Onion soup with the Malheur 12 – think French Onion but with a beer and beef based broth.  She will also have some Malheur beer cheese plates and I imagine a Malheur burger.  And finally, she is making Malheur 10 Mac n' Cheese.  A great night of eating and drinking at the pub.  We are also printing a limited number of men's and women's T-shirts to commemorate the event.  Look for our new 3 liter Malheur glass to be making the rounds.  If you can not make it by this Thursday, I have ordered enough kegs to keep both beers flowing all weekend, so stop by any time – though we will be closed on Sunday for Easter.
For those more interested in the hoppy side of life, we just tapped new kegs of Port Brewing Mongo IPA, Bear Republic Apex IPA, Alpine Nelson Rye-IPA and Russian River IPA.  Pliny is still flowing well as is the Green Flash West Coast IPA.  We'll have a cask of Stone IPA on Thursday the 1st at 5 pm in addition to the Malheur beers.  Alpine Duet is expected back on tap this weekend and I just tapped the Ballast Point Sextant Oatmeal Stout on our nitrogen tap – it is creamy and delicious.
Belgian Fest Goodies
Friday the 2nd we are continuing the Belgian theme by tapping some of the left over kegs from the Belgian Beer Party this past weekend, which was a ton of fun (and no I did not try anywhere near all 116 beers).  I am not sure exactly what will be on when since all the kegs are only partially full and I do not expect any of them to last very long.  I know for sure that on Friday we will be tapping Allagash Oddyssey, Alpine Ned (Flanders Red), Lost Abbey Framboise de Amorosa, Avery Brewing Andy's Mother (special festival blend) and Dubuisson Cuvee des Trolls.  I am sure that at some point later in the evening, some of these fine kegs will show up on tap: Scaldis Noel, Bruery Saison de Lente (saison with brettanomyces), Valley Brewing Promegranate Calambic, St. Feuillien Cuvee de Noel, Chimay White, Gouden Carolous Easter and Kasteel Cuvee de Chateau (10 year old Kasteel Brown).  What doesn't get tapped Friday night will get put into rotation to be tapped on Saturday.  So Thursday-Saturday this week will be a great time to enjoy Belgian draft beer at the pub.  We will also have bottles of the new (to us) 2007 Rodenbach Vintage on sale Friday night.
As mentioned, we will be CLOSED on Sunday, April 4th for Easter.  We will be open normal hours on Saturday the 3rd from 11:30 am until midnight so that you can get your last hoppy beer fix before Monday.  We'll resume normal hours on Monday the 5th at 11 am.  Saturday is also Final Four day for the NCAA basketball tourney.  At 3 pm, Butler faces Michigan State and around 6 pm, West Virginia plays Duke.  It has been a crazy run so far and I think these will both be exciting games.  The championship game will be Monday night, April 5th
The all-important second leg games in the UEFA Champions League will be Tuesday and Wednesday, April 6th and 7th.  Tuesday will feature CSKA Moscow v. Inter Milan (0-1) and Barcelona v. Arsenal (2-2).  The first leg of the Barca-Arsenal tie was incredible and I can only hope the second leg is as good to watch.  Wednesday the 7th will see Bordeaux host Lyon (1-3) and Manchester United welcome Bayern Munich (1-2) to Old Tradford.  The UEFA Europa league games will all be on TV on Thursday, April 1st and 8th for both legs and all will start at 12:05 pm.  And if you didn't see the score, our American ladies crushed Mexico 3-0 at USD this past Sunday.  We now have the MLS Direct Kick package and can show nearly every single MLS game on tv.
Beer and Cheese Please
There are still about 10 spaces left for our Spring Beer and Cheese pairing on Sunday, April 18th at 6:30 pm at the pub.  We will be setting up the final pairings next week, but it looks like we are heading for a Belgian-themed class.  Cost is $40 and you can sign up and pay at the bar (cash only please).  If this class sells out early (seeming quite likely), we will start a waiting list for a potential second class on the following Sunday, April 25th.
Looking Ahead
Next week we have two fantastic events planned. Thursday, April 8th is Sculpin Casks night.  No, that is not a typo, there will be cask(s) plural of Ballast Point Sculpin IPA.  We will tap the first one at 5 pm and the second one when the first is blown.  I don't expect it to last all night, but the two casks should last until at least 7 pm (no promises though).
Saturday the 10th we have a very special treat as our friends Bas and Hildegard from Urthel will be stopping by the pub.  I do not have a set time yet, but it is likely to be in the late-afternoon, early-evening time frame.  We will have draft beer and bottle specials from Urthel all day.  On tax-day, Thursday, April 15th we will tap a cask of AleSmith ESB at 5 pm.  Tuesday, April 20th we will tap a keg of Russian River Pliny the Younger at 4:20 pm.  And you can mark your calendars now for the San Diego Real Ale Festival on June 4th and 5th at Pizza Port Carlsbad.
That is your good beer news for now.  We'll see you this weekend for Malheur draft beer!  Cheers, Tom
Tom Nickel
O'Brien's Pub
20 Taps – Tons of Hops
Official US Soccer Bar
4646 Convoy Street
www.obrienspub.net