O'Brien's Pub – Russian River World Tour!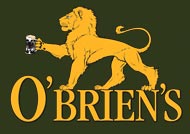 Hello Good Beer Fans!
It has been a very fun month celebrating 16 years of great beer at O'Brien's.  And there is still plenty more great beer to come.
Right now we have some great hoppy beers on tap including Coronado Idiot IPA, Green Flash Imperial IPA, the new Port Brewing Mongo double IPA, Alpine Duet IPA and the just released 2010 Sierra Nevada Bigfoot Barleywine.  Wednesday night the 27th we added the Stone and Brew Dog collaboration Bashah (Black As S**t, Hoppy As Hell – kind of like the Wgasa Tram line at the Wild Animal Park).  I haven't tried it yet, but I hear that it is quite dark and rather hoppy.
And speaking of Stone collaborations, we have bottles of the Nogne/Jolly Pumpkin/Stone Holiday ale with chestnuts, juniper berries and sage.  The beer uses the same recipe each year, but is brewed at a different one of the three breweries each year.  This year is Nogne O in Norway, so it counts as import bottle for to-go purposes.  We also have the De La Senne Stouterik Belgian Stout, Brasserie Lefebvre Saison 1900 and Alpine Exponential Hoppiness all in bottles.  On the honey wine front, we have 4 Redstone meads available – Traditional Honey Wine, Black Raspberry Nectar, Boysenberry Nectar and Vanilla Bean and Cinnamon Stick which is the annual winter seasonal.
Thursday the 28th we tap a cask of Green Flash West Coast IPA at 5 pm.  This has become one of the most popular IPAs in town and for very good reason.  As always, all of our local beers will be on special Thursday night.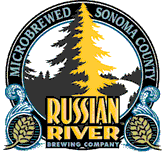 Russian River World Tour
The big news is this weekend's Russian River World Tour featuring 14 draft beers, 3 more in the bottle and some vintage and large format bottles too on Saturday and Sunday, January 30th and 31st!  Since the line-up is nearly half non-TION beers, Vinnie and I decided to call it a World Tour instead of TION night.  On tap you can look for – Redemption, Rejection, Perdition, Benediction, Damnation, Temptation, Consecration, Aud Blonde, Dead Leaf Green, Porter, IPA, Blind Pig IPA and Pliny the Elder.  No Pliny the Younger as it will not be released until the first week of February.
In the bottle we will have two different batches of Beatification along with Salvation, Batch 23 Damnation, Damnation, Consecration, and vintage versions of Supplication and Temptation.  We will have a very limited number of 3 liter bottles.  I will have a sheet with all of the styles, abvs and TION definitions for the event.  A few of the beers are already and I expect to get the IPA on before Thursday night.  All of the beers will be available in 5 oz tasters with larger pours or 8.5 oz, 10 oz, 14 oz and 16 oz depending on the beer and its style.  For the sake of the bartenders, please do not order more than 4 five tasters at a time – they will all appreciate it.
Next Week
Our first cask of Febrewary will be Alpine Duet IPA on Thursday the 4th.  Friday the 5th we will be featuring beers from
Deschutes brewery in Bend, Oregon.  We'll have Hop Henge, Abyss and Mirror Mirror on tap for sure and I will likely add some more styles next week.  Over the weekend we have the not-so Super Bowl.  At least we get to root for Drew Brees.  Lindsey will have something cajun themed for a food special and I will find something to tap to make the game more enjoyable.  We will stay open until about 30 minutes after the end of the game.
Looking Ahead
Other fun beers and events you can look forward: Ballast Point Sea Monster cask on Thursday the 11th; North Coast Night on Friday the 12th featuring kegs of Old Rasputin XII and a draft vertical tasting of Old Stock Ale; Ballast Point Abandon Ship Smoked Lager on tap with a Victory at Sea 5 gallon cask and Aecht Schlenkerla Oak Smoked Marzen on tap and New Belgium Brewing Night on Friday the 19th.  We will be open normal hours on Sunday the 14th and Monday the 15th (President's Day).  Wednesday the 24th we will host a viewing party for the USA v. El Salvador soccer friendly starting at 4 pm.  To help encourage the crowd we will tap two different five gallon casks of the new Alpine Token Imperial Porter – one with vanilla bean and one with bourbon-soaked oak chips.  Both casks will be tapped at halftime of the game – around 5 pm.
Pub Trip
Our annual pub crawl to Belgium with Ciao! Travel is nearly full.  There are only a few spaces left for the Grand Tour which includes Amsterdam, Ghent, Bamberg and Munich.  About a half dozen spaces are still open for the Amsterdam-Mechelin-Ghent tour.  A group of us will be attending the Netherlands v. USA soccer match on Wednesday, March 3rd as part of the trip.  The ticket window for ordering closes this Friday, so if you are interested in going to the game, I need to know by Thursday the 28th.  Every year this trip has been great fun (and a great deal) and I am really looking forward to going this year.  Find a flyer at the pub, or visit Ciao! Travel's website at www.ciaotravel.com for more information.
One final note, O'Brien's now has an official dentist, Dr. Craig Kubina.  Craig and his wife Rachel have been O'Brien's patrons for several years.  Lindsey and I started going to his office soon after we met him.  He is an excellent dentist, and though I don't really enjoy going to his office to see him – it is always nice to see a friendly face there.  We have started to use Craig's practice for our dental coverage for our senior employees.  So since you have to go to the dentist, you might as well go to one that homebrews and likes good beer.  His office is in La Mesa near Grossmont Center.  You can find all of the contact information at his website:www.drkubina.com.  And no, I am not getting a discount for writing this – Craig won't even know I did this until he reads the email.
That is your good beer news for now.  We'll see you soon for a great pint of beer!  Thanks for celebrating 16 years of great beer with us – we truly appreciate it.  Cheers, Tom
Tom Nickel
O'Brien's Pub
20 Taps – Tons of Hops
Official US Soccer Bar
4646 Convoy Street
www.obrienspub.net