Blue Palms Brewhouse 5th Anniversary Taplist Details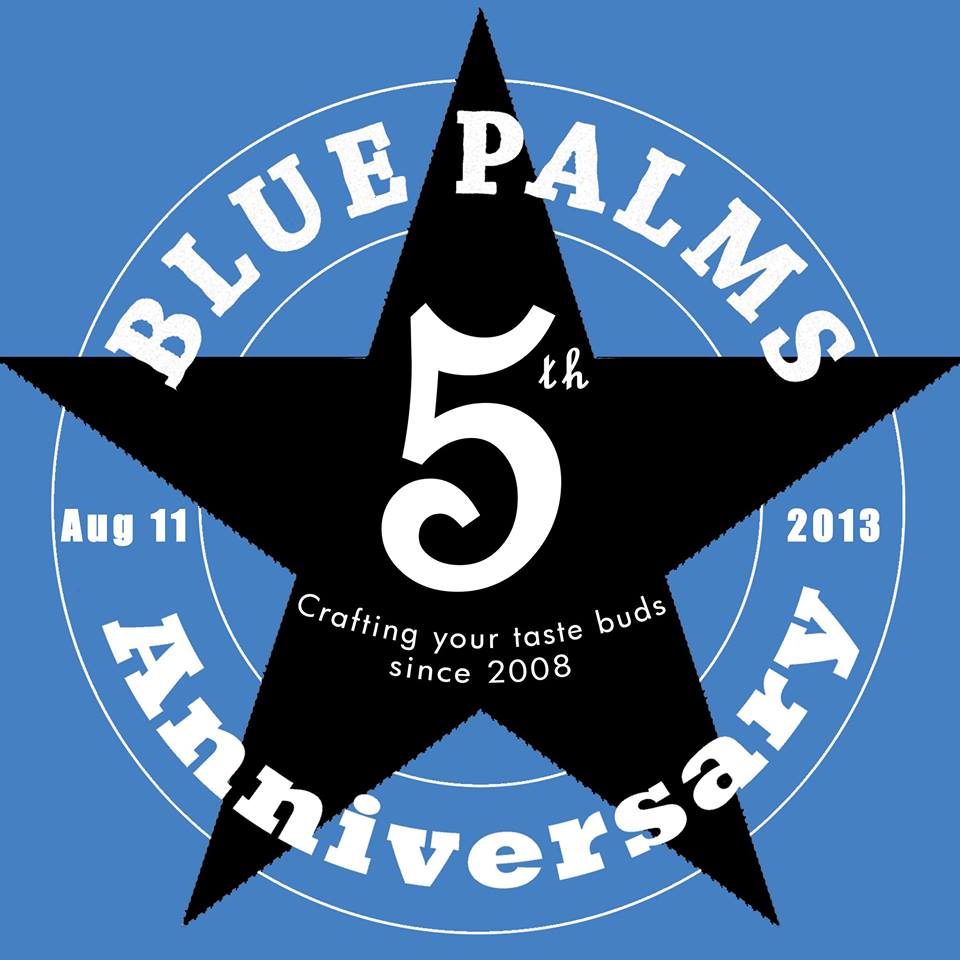 Anyone who has been following me here on The Full Pint knows that Blue Palms Brewhouse in Hollywood, CA is very near and dear to my heart. On Sunday, August 11th, this Hollywood craft beer spot will be turning 5 and owner Brian Lenzo is once again pulling out all the stops in curating one badass tap list for the occasion.
Lenzo has journeyed far and wide to source some rare and nearly impossible-to-get kegs for the event which offers a commemorative taster glass and 12-taster tickets (until July 17th — 10-tasters after that). Additionally, admission also gets you access to whatever beast Lenzo brings out for his annual roast to help soak up an afternoon of beer sampling. Aside from the notable list below (which is still constantly being updated), you may notice some very special appearances from Bell's, Founder's, and Southern Tier — craft beer favorites not readily available in California. Personally, I'm also very excited to finally try the brews of Cincinatti's newest brewery, Rhinegeist — so stay tuned!
Tickets for this year's anniversary party are on sale now for $45 and will bump up to $50 in August (and at the door) for 10 five-ounce tasters. For those itching to find out what goodies they've gotten, check out the list below:
Firestone Parabola 2012
Firestone Sucuba
Oskar Blues 2010 Ten Fidy
Dechutes Abyss,
Deschutes Black Butte 24
New Belgium 2012 Tart Lychee
Golden Road Buffalo Trace Barrel Aged Brown 2012
Russian River Consecration
Russian River Sanctification
Russian River Supplication 8/12 and 12-12-12
Bell's Two Hearted Ale
Southern Tier Choklat
Founder's Double Trouble
Founder's Devil Dancer
**LA RELEASE of Stone 17th Anniversary Gotterdammerung IPA
Logsdon Seizoen Brett
Bruery White Oak
Chocarrubica
Russian River Blind Pig,
Russian River Pliny
Ballast Point Sculpin
Beachwood BBQ Hot Tub IP
Coronado Buster IPA
Kern River Just Outstanding
Stone Mix Tape
Oskar Blues 10 Fidy 2012
Bruery Bois
Allagash BA Blac
Drakes Jolly Roger,
Figueroa Mountain BA #2
Sierra Nevada Narwhal
Almanac Farmers Reserve#2
Bruery White Chocolate
Hangar24 Pugachev's Cobra
Green Flash Flanders Drive
Big Sky BA Hog Hound
Hangar24 Hammerhead
Firestone Walker Parabola
Firestone Pivo Pils
Firestone Union Jack IPA
Firestone Double Jack DIPA
Firestone Special Sour
TAPS REMY
Brooklyn Reserve,
Great Lakes Monster
Drakes Sour 2011
Bruery Xata
Kinetic It's Peanut Butter & Jelly Time
Telegraph Obscura Vulpine
Eagle Rock THREE
Ballast Point Mole Victory @ Sea
Cask of Ballast Point Lenzo Lollipop
Avery Boulder Weiss
Avery Uncle Jacobs Stout
Moylans Barrel Aged Girard Berry Special
Coronado Peanut Butter Stout
Coronado Sock Knocker DIPA
LadyFace Barrel Aged Midnight Special (Dark Scotch Ale fermented w/ Belgian yeast, aged 8 months in Cabernet Barrels)
Take a peak at last year's festivities here.