Sun King Leads Hoosier Charge at GABF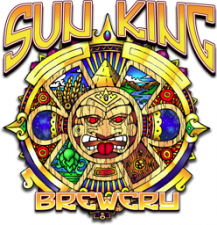 (Indianapolis) – Sun King Brewing Co. is proud to announce that it was the recipient of eight medals at the 30th annual Great American Beer Festival.
Not only did Sun King lead the field in total medal count, its four Gold Medals were the most won by any single brewery.
The winning entries were:
Gold Medal, Coffee Beer, JAVA MAC
Gold Medal, Belgian-Style Strong Specialty Ale, BUFFALO SLUMBER
Gold Medal, Classic Irish-Dry Stout, RING OF DINGLE
Gold Medal, Scotch Ale, WEE MUCKLE
Silver Medal, Wood and Barrel Aged Beer, WEE POGUE
Silver Medal, Wood and Barrel Aged Strong Beer, BOURBON BARREL JOHAN
Silver Medal, American-Style or International Pilsner, POPCORN PILSNER
Bronze Medal, Barley Wine-Style Ale, JOHAN THE BARLEYWINE
Hosted by the Brewer's Association, the GABF is the largest commercial beer competition in the world, with 3,930 beers vying for Gold, Silver, or Bronze medals. Those beers are rated in 83 categories and Indiana breweries had the highest winning rate by state at 19.2% (10 medals out of 52 total entries).
Three other Indiana brewers took home hardware at the GABF.
Silver Medal, German-Style Marzen, MUNSTER FEST (Three Floyds, Munster, Ind.)
Silver Medal, Scottish-Style Ale, NAUGHTY SCOT (Rock Bottom – College Park, Indianapolis)*
Bronze Medal, American-Style Brett Ale, GRIMALKIN – SUPER KITTY FANTASTICO (Brugge Brasserie, Indianapolis)
*Because Rock Bottom is a national brewpub chain, the College Park win counts for Colorado, where the company is based. But Liz Laughlin lives and works here so we're claiming her!
If you would like to speak with us about the Great American Beer Festival or any other issues pertaining to Sun King, craft beer, or Indiana's growing brewing industry, please contact Neal Taflinger at (317) 602-3702 or [email protected].
About Sun King Brewing Co.: Founded in 2009 by two award-winning commercial brewers, a mechanical engineer, and a veteran of the food distribution business, Sun King Brewing Co. won Indianapolis' heart in 2010 with its lineup of stellar house beers (Sun Light Cream Ale, Wee Mac Scottish Ale, Bitter Druid ESB, and Osiris Pale Ale) and artfully crafted seasonal and specialty Lagers, Pilsners, Porters, Stouts, American IPAs, Belgian Wits, American Wheat beers. Less than two years after rolling the first full keg out the door, Sun King has grown into the third-largest beer brewer in the state of Indiana. The company's commitment to handcrafted seasonal and specialty beers has been rewarded with multiple medals at the Indiana Brewers Cup, Great American Beer Festival®, and World Beer Cup® competitions.