Epic Brewing Wins 2 Medals at The 2011 Great American Beer Festival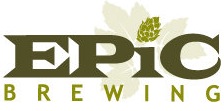 October 3, 2011, Salt Lake City, UT: Utah's award winning craft brewery, Epic Brewing Company received two medals at this year's annual Great American Beer Festival on Saturday in Denver, Colorado. The 2011 Great American Beer Festival®(GABF) competition drew an impressive field of competitors and the festival remains the largest commercial beer competition in the world, with 3,930 beers vying for medals.
Epic Brewing received a Bronze medal for its Imperial IPA which is one of the five most competitive and highly prized categories at the competition, with 103 entries in this "King" of extremely popular hoppy beer styles.  The Silver medal went to Double Jack from Firestone Walker Brewing Co, of Paso Robles, California and the Gold to Citra Double IPA, Kern River Brewing, Kernville, California.
Epic was awarded a Silver Medal for its Brainless on Peaches in the Fruit Beer category. Raspberry Tart from New Glarus Brewing Co., New Glarus, Wisconsin was the Gold Medal winner and Derailed Black Cherry Ale, from Erie Brewing Co., Erie, Pennsylvania the Bronze.  Epic's Head Brewer Kevin Crompton explains that "Brainless on Peaches is a Belgian Style beer that undergoes a secondary fermentation on Peaches in French Oak White Wine barrels with additional aging" and added that "sharing the stage with New Glarus Brewmaster Dan Carey was an honor."
Co-Founder David Cole said "the wins are an important recognition for our efforts to make outstanding beers and winning in the Imperial IPA category will continue to fuel the explosive demand for our beers we have seen over the last 18 months of operations."
Epic Brewing Company brews and bottles three different levels of Epic beer: Classic, Elevated and Exponential with 28 distinctive Ales and Lagers in a wide variety of styles using creative brewing techniques.
Epic Brewing Company is located at 825 South State Street, Salt Lake City, Utah,  801-906-0123 and online at www.epicbrewing.com and is distributed in Oregon, Idaho, Utah, Arizona, Northern Colorado, Minnesota, Ohio, New Jersey, Virginia and North Carolina.