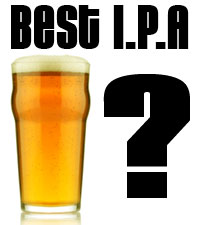 Hop heads, we would like to know what you think is the best India Pale Ale, also known as IPA.  This beer comes in various forms depending on where you live in the world.  It is one of the most popular styles at the moment, and seems to be picking up momentum as a commonplace at bars and restaurants. If you have steered away from this style, but are very curious, check out this impressive list, as well as the passionate write-ins below. You might be converted to a hop head before you know it.
Rules
You can WRITE IN A VOTE FOR A BEER NOT LISTED in the comments section below.
The beer can't be an Imperial/Double IPA. Some beers like Stone Ruination or Dogfish Head 90/120 Minute have IPA in the name. They are Imperial, not regular/single IPAs. BA and RB will be used as references if there is a dispute.
Cast your vote by July 30, 2010 at 5PM PDT.
If you have trouble casting a vote, please use the Contact feature of our site.
Have fun. Don't cheat. Click Here to subscribe to our email list
Best IPA?
Ballast Point Sculpin IPA (13%, 331 Votes)
Bell's Two Hearted Ale (11%, 285 Votes)
Surly Furious (10%, 244 Votes)
Noble Ale Works IPA (6%, 143 Votes)
Dogfish Head 60 Minute IPA (5%, 127 Votes)
Russian River Blind Pig (5%, 123 Votes)
Stone IPA (5%, 122 Votes)
Avery IPA (5%, 118 Votes)
Firestone Walker Union Jack (5%, 113 Votes)
Green Flash West Coast IPA (5%, 113 Votes)
Smuttynose IPA (4%, 112 Votes)
Bear Republic Racer 5 (4%, 109 Votes)
Town Hall Masala Mama IPA (4%, 95 Votes)
Sierra Nevada Torpedo Extra IPA (3%, 66 Votes)
Deschutes Inversion IPA (3%, 64 Votes)
Alesmith IPA (2%, 57 Votes)
Victory Hop Devil (2%, 54 Votes)
Lagunitas IPA (2%, 49 Votes)
Cigar City Jai Alai (2%, 38 Votes)
Karl Strauss Tower 10 (1%, 30 Votes)
Caldera IPA (1%, 21 Votes)
New Belgium Ranger IPA (1%, 15 Votes)
Founders Harvest Ale (1%, 14 Votes)
Southern Tier IPA (1%, 14 Votes)
Harpoon IPA (0%, 12 Votes)
Port Brewing Wipeout (0%, 8 Votes)
Speak Easy Big Daddy (0%, 5 Votes)
New Glarus Hop Hearty (0%, 5 Votes)
Rogue Yellow Snow IPA (0%, 3 Votes)
BrewDog Punk IPA (0%, 3 Votes)
Magic Hat Hi.P.A (0%, 2 Votes)
Total Voters: 2,495
Loading ...