Don't Miss The Monrovia Station Beer & Music Fest 4/16/16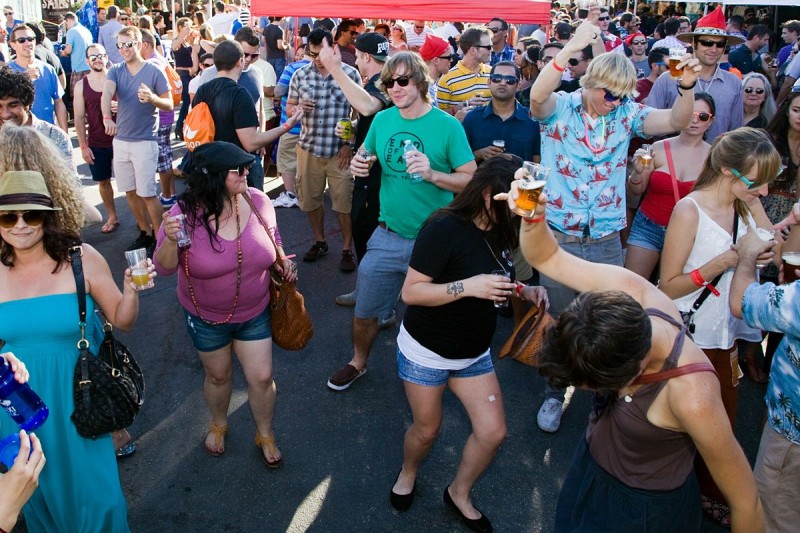 Attention SoCal residents.  You may or may not have heard, but the Metro recently extended the Gold Line light rail through the San Gabriel Valley. That includes Arcadia, Monrovia, Duarte, Azusa and Glendora.  In conjunction with this being a great, safe way to travel, the City of Monrovia is organizing the Inaugural Monrovia Station Beer & Music Festival on April 16th.  That means you can safely connect at Union Station in Downtown LA and take a quick trip to lovely Monrovia to sample some amazing craft beer. There will be  music and food vendors, so if you are free, you should join in on the fun.  Below are the details along with a link to purchase tickets.  Jonny and I live in the area, so we will be there with bells (and pretzel necklaces) on.
Buy your tickets today and assure your entry!
https://tickets.beerfests.com/event/monrovia-station-beer-music-fest/listing
The Monrovia Station Beer & Music Fest is a unique event celebrating craft beer & live music and the opening of the Station Square Park & Metro Goldline. The event will take place on Saturday, April 16, 2016 from 2:00-6:00 pm at the Station Square Park in Monrovia. There will be a special VIP admission from 1:00-2:00 pm (limited amount of VIP tickets). Ride the new Goldline and get dropped off in front of the event at the Monrovia Station Square Park.
OFFICIAL SITE OF MONROVIA STATION
Savor the art of brewing as you sample over 30+ craft beer from award winning breweries. Purchase delicious food from popular local food vendors as you are entertained by Go Betty Go & The Delgado Brothers. Proceeds benefiting the Monrovia Chamber of Commerce & Boys & Girls Club of the Foothills.
VIP Admission $55 (Early Entry 1:00-6:00 pm)
15 – 6oz tastes
Souvenier glassware
General Admission $45 (2:00-6:00 pm)
Designated Driver $20 (2:00-6:00pm)
Admission the day of $65 (If tickets still available)
PLEASE PURCHASE YOUR TICKETS ONLINE BEFORE THE EVENT DATE!
IMPORTANT THINGS TO KNOW!
Since this is a beer festival, and a 21 and older ONLY event, please be aware that all attendees must show valid photo I.D. at the door to be admitted. NO EXCEPTIONS!
Proper identification is the responsibility of the attendee. Failure to present proper, valid photo identification (driver's license or passport) will result in denial of entry with no refund offered.
Monrovia Chamber of Commerce/Monrovia Station Beer & Music Fest is not responsible for any lost/stolen items, injury, lost/stolen tickets. We reserve the right to not serve anyone we feel has had to much to drink or is already under the influence of alcohol before the scheduled event time. We will not tolerate violence or harassment & will have violators vacate the premises w/no refund. All ticket sales are final.
There are Designated driver tickets available. All DD ticket holders will get 3 water or sodas. Any DD ticket holder seen drinking alcoholic beverages will be asked to leave the event.
FOOD IS NOT INCLUDED WITH ADMISSION. IT IS PAY AS YOU GO WITH THE VENDORS
THERE IS NO SEATING FOR THIS EVENT PLEASE BRING BLANKETS OR LAWN CHAIRS! NO PETS ALLOWED!
Rain out date is May 7, 2016
THE BREWERIES
The Bruery
Bruery Terreux
Bagby Beer Company
Beachwood BBQ & Brewing
El Segundo Brewing Company
Eagle Rock Brewing Company
Alosta Brewing
Phantom Carriage
Stone Brewing Co.
Mumford Brewing
Ironfire Brewing Co.
Pacific Plate Brewing Co.
Smog City Brewing
Allagash Brewing Co.
Three Weavers Brewing Co.
BANDS
Go Betty Go
The Delgado Brothers
Would you like to get the word out about your upcoming beer event? Contact The Full Pint for more info.