Interview With Jeremy Danner of Boulevard Brewing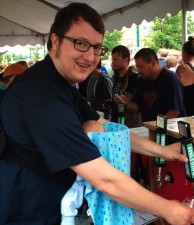 We just caught up Jeremy Danner, Ambassador Brewer at Boulevard Brewing. Boulevard is the most famous craft brewery Missouri. Late last year, it was announced that Boulevard Brewing was acquired by Duvel Moortgat. There's always a mixed reaction within the craft beer industry with news like that, so we wanted to get Jeremy's view on the situation, as well as what else is going on. Please enjoy, cheers!
TFP:  You must have heard acquisition rumblings before news hit the press. What was it like keeping that news to yourself, what was going through your mind when you were lying in bed at night?
JD: We live in a pretty open business culture here at Boulevard so we knew that John was meeting with folks to plan the future of Boulevard. I'd also read that Duvel Moortgat was looking to acquire an American brewery. When the whole thing came together and we were told, it just made sense. 
TFP: Now that it's been a few months since the news broke on the acquisition, what is the vibe at the company and in the brewhouse?
JD: The vibe hasn't changed at all. John is keenly aware of the culture he's fostered here and knew that it was important to preserve that. We just had our first combined meetings in Cooperstown and everyone I met was cool and very much inline with how we are at Boulevard. Virtually nothing has changed about my day to day and I imagine others would say the same. 
TFP: Do you feel some of the initial reaction to the acquisition from the hyper locals was fair in response to joining a multi brand corporation?
JD: Definitely. We're incredibly lucky that Boulevard has become part of the identity of Kansas City. You order a Pale Ale at a bar in KC and they don't even ask which brewery. You get our beer. We've been locally owned since the beginning and I think it took people by surprise. John wrote a really nice letter that did an excellent job of explaining his motivation and all of the Duvel Moortgat breweries make top notch beer. People definitely found comfort in that. 
TFP: Is it a given there will be some sort of label collaboration between Boulevard/Duvel/Ommegang? A blend of Sixth Glass and Three Philosophers perhaps?
JD: I'd say it's highly likely that we'll work with our beer brothers and sisters from another brewery on a collaboration beer. We don't have specific plans right now as we're still all figuring out what it means to have expanded our family and how that affects everyone. 
TFP: While not literally in Anheuser-Busch's back yard, Boulevard must have been approached a time or two by them?
JD: I imagine that craft breweries our size receive daily calls from bigger breweries looking to acquire them. To be honest, I'm not aware of any specific offers that were made, but I don't get invited to meetings like that. I'm happy to just be a worker bee.
TFP: On the other side of the coin, does Boulevard attract folks not cut out for the big corporate AB job?
JD: I really don't know about that. I've met a lot of brewers that came from the big three so I don't know that there's a personality type or set of characteristics that make a person more suited for one or the other. I feel like we have some of the best people in the industry here though. Boulevard's management team does a really good job of putting the right person in the right place. It's nearly impossible to get fired here. They just find something that you're better at. 
TFP: Boulevard has had great success with the Love Child Series, and Saison Brett is undoubtedly a big hit. Will we see more sour and wild ales going forward? Possibly the size of The Bruery's sour barrel program?
JD: We've been lucky that beer drinkers have really embraced the Love Child Series. I think beer geeks, which I consider myself one, have wanted a sour from Boulevard for years. We just wanted to take our time and make sure we did it right. Winning a gold medal at GABF this past year for Love Child No. 3 really validated our view on that. Our barrel aging program has already grown so large that we had to move everything to cave space in a neighboring city. Beers like Love Child and Saison-Brett are never going to be our biggest sellers, but we're definitely expanding them at a manageable pace. I don't know if we'll ever focus as much on sour beers as The Bruery does. Those guys absolutely kill it by the way.
TFP: What precautions have you taken to keep the bugs away from your clean ales.
JD: We have a wall built in our barrel aging space to keep the "clean" beer away from the "wild" beer. This wall also allows us to keep the buggy side warmer to promote good bacterial activity. For packaging, we usually run our sour/wild beers all together so that we can break the bottling equipment down afterwards for an obsessively thorough cleaning. We have different hoses and gaskets that we use for sour/wild runs as well.
TFP: Are there any experimental styles or recipes you are jonsing to scale up and bottle for distribution?
JD: I'm not gonna lie. I'm radler/shandy crazy right now. 
TFP: What is your take on the Black, White and Red IPA trend we've seen over the past 5 years?
JD: I don't know. We're not the best at brewing to style here so it's tough for me to say I don't agree with taking liberties with the IPA category. Personally, of those three, I'm definitely more of a Black IPA fan. We just brewed Grainstorm Black Rye IPA last week for an April release. I'm excited to drink it. 
TFP: Why have you not collaborated with Mikkeller, bro?
JD: Mikkel hasn't asked me yet, bro.
TFP: What would be your dream collaboration, with whom, brewing what?
JD: I'd like to brew an Imperial Stout with Zooey Deschanel. It would be an incredibly long brew day so there'd be plenty of time for me to awkwardly attempt conversation with her. 
TFP: What do you think the most underrated/under-appreciated style of beer is?
JD: I'd have to say Imperial Stouts. I'm totally kidding. I know pro brewers like to beat the pilsner drum when asked this question, but I think it's completely accurate. I don't think people realize the skill and technical mastery required to make a really good, clean pilsner. There's nothing to hide behind in that style. Any flaws show. It's really tough to make a simple beer.
TFP: What is your go to Boulevard Beer?
JD: Pale Ale, definitely. It's the one that's on tap in my basement most often and the one I usually start a night out with. I also like to come back to Pale Ale at the end of the night for my final final.
TFP: What is your go to NON-Boulevard Beer?
JD: There's a brewpub in town called McCoy's Public House that makes an amazing ginger shandy. Just typing it makes me want one.
About Boulevard Brewing Company
Boulevard Brewing Company has grown to become one of the largest specialty brewers in the Midwest, dedicated to the craft of producing fresh, flavorful beers using traditional ingredients and the best of both old and new brewing techniques. Boulevard beers are distributed in 25 states and in the District of Columbia. www.boulevard.com – @Boulevard_Beer – facebook