Four Brewers | Magnify, Carton, Bolero Snort…It's New Jersey!
Season 4, Episode 41 – This week, more brew from New Jersey!
We're going back to the east coast with a show dedicated entirely to craft breweries from New Jersey, by way of 4B super-fans Alex Greene and Caitlin Sibley.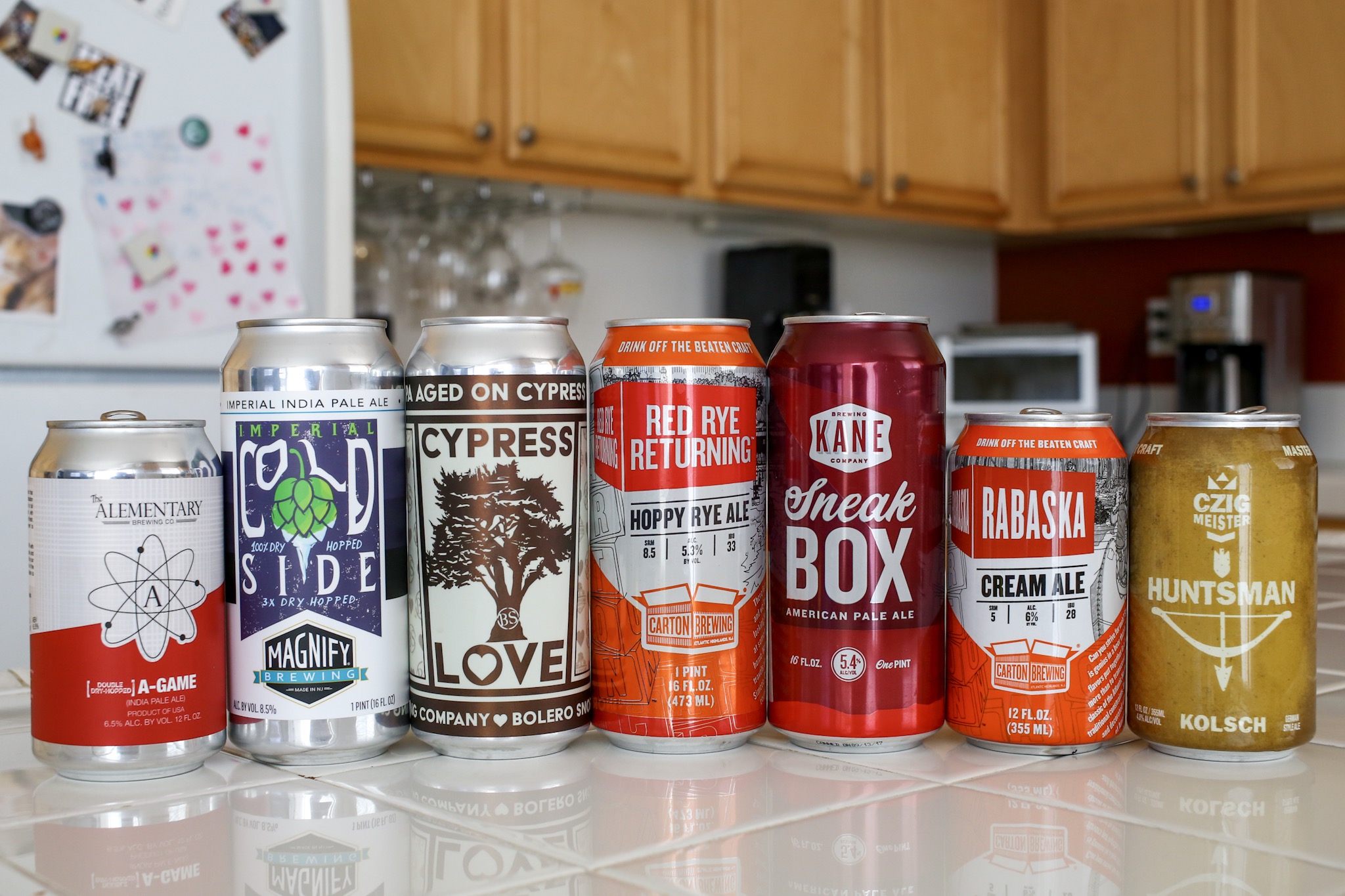 Being a podcaster can be fun and rewarding. If you're a podcaster with a solid fan base that go above and beyond to contribute to your podcast, it's the most rewarding feeling ever. Every time we get beers from listeners, we are both humbled and excited to be in the position we are in. This week, Caitlin and Alex brought fire with some fantastic New Jersey beers from their local breweries.
More and more, the beers we get from listeners include at least one (if not all) hazy, New England-style IPA. It's all the rage right now in craft beer. What we find interesting and exciting is how the style is both evolving and growing from brewery to brewery. On the surface, it seems like hazy IPA would be simple to brew. Couldn't a brewer just take a regular, west coast-style IPA, double dry-hop it, and then simply bypass the filter? The resulting beer would be cloudy, hoppy, and hazy, so, end of story, right? Well, no, that's not all there is to it. Of all the beers we got from Alex and Caitlin, Magnify Brewing Company stood out head and shoulders above many recent New England-style hazy IPAs that we've had on the show.
Since we're talking about hazy IPA, it only makes sense to talk about diacetyl and dissolved oxygen in regards to mobile canning lines. With the recent popularity of canned craft beer, diacetyl issues in beer have seemingly become a bigger problem than before with glass-bottled beer. We speculate as to why this is consistently a problem, and how it might be fixed.
Thanks, again, to Alex and Caitlin for the New Jersey beers. Tune in next week when we finish the rest of the beers from their care package!
BREW THE SHIT OUT OF IT.
Episode Chapters:
00:00:00: Support The Show On Patreon!
00:00:09: Theme Music
00:00:20: Begin Show
00:00:39: Beers From New Jersey
00:04:03: Huntsman – Czig Meister
00:09:17: Rabaska – Carton Brewing Company
00:13:53: Red Rye Returning – Carton Brewing Company
00:18:47: Sneakbox – Kane Brewing Company
00:23:42: A-Game – The Alementary Brewing Company
00:35:57: Cypress Love – Cypress Brewing Company
00:41:55: Cold Side – Magnify Brewing Company
00:49:31: Wrap Up
00:50:02: Four Brewers On YouTube
Beers from this week's episode:
Huntsman – Czig Meister
Rabaska – Carton Brewing Company
Red Rye Returning – Carton Brewing Company
Sneakbox – Kane Brewing Company
A-Game – The Alementary Brewing Company
Cypress Love – Cypress Brewing Company
Cold Side – Magnify Brewing Company
Direct audio: MP3
Subscribe: Apple Podcasts | RSS | Google Play Music | Stitcher | YouTube
Support The Show: Patreon | PayPal Donation
Social Media: Facebook | Twitter | Instagram | tumblr | Flickr | Snapchat | Anchor.fm
Email Four Brewers: [email protected]
Theme Song: The Sleeping Sea King