Wynkoop – Tap List for Great COntenders Event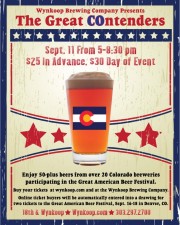 Denver, CO – The Great COntenders takes place upstairs at Wynkoop from 5 to 8:30 PM, it's the perfect event for folks who missed out on tickets for the sold-out GABF. It also makes for a fine warm-up session to the nation's best beer-tasting event here in D-Town Sept 16-18.
Tickets are just $25 in advance ($30 day of show) and can be purchased at www.wynkoop.com . Online ticket buyers will be entered in a drawing for two tickets to a session of the GABF. The winner will be picked at the event.
Here is the list of brewers and beers being served!
Asher Brewing: Greenade Organic Double IPA
Avery Brewing: The Kaiser Imperial Oktoberfest Lager
Boulder Beer: Planet Porter (Gold 1992, Bronze 2007), Flashback IBA
Breckenridge Brewery: Regal Pilsner, Lucky U IPA, Autumn Ale
Bull & Bush: Tower ESB (Gold 1998), Man Beer (Silver 2003), The Legend of the Liquid Brain (Silver 2008), Big Ben Brown Ale,
Dostal Alley – Shafthouse Stout (Silver 2008), Pub Ale (Silver 2003)
Dry Dock Brewing: Bismarck Alt (Gold 2009) U-Boat Hefeweizen (Silver 2009), Docktoberfest (Silver 2009)
Durango Brewing: Derail Ale (Gold 2007, 2008), Dark Lager
Golden City Brewery – Standup Double IPA, Goldener Gose
Great Divide Brewing: Hoss (Bronze 2009), Yeti (Silver 2005/09, Bronze 2008), DPA (Gold 1999, Bronze 2006),Rumble IPA
Left Hand Brewing: Sawtooth Ale (Bronze 2008, Gold 1994) Milk Stout (Silver 2008), Oxymoron Teutonic India Pale Lager
New Belgium Brewing: Abbey Ale (8 GABF medals) Mothership Wit (Gold 2009), Trippel (Gold 2001)
Odell Brewing: IPA (Gold 2007), Isolation Ale, Bourbon Barrel Stout
Pints Pub:  Lancer IPA in firkin
Pug Ryan's Brewery & Pub: Pallavicini Pilsener (Gold 2005, Silver 2004/7/8), Morning Wood Wheat (Silver 2003), Pug Damit Porter, Helles Good Bock
Pumphouse Brewery & Pub: 4 Alarm Copper Ale (Silver 2004), Citra Pale Ale, Hot Shots Harvest Ale
Sandlot Brewery: Most Beer Judges are Boneheads Pils (Silver 2005, Bronze 2008), Second Hand Smoke (Silver 2005, Bronze 2008), Goat Rancher Bock (Silver 2005, Gold 2008)
Ska Brewing: True Blonde (Bronze 2006, 2009), Buster Nut Brown (Gold 2003, 2004, Silver 2009), Steel Toe Stout (2006 Silver,2009 Bronze), Clancy's Black Beer
Strange Brewing: IPAphany India Pale Ale, Liquid Resume Pale, Paint It Black Honey Coffee Stout, Le Bruit Du Diable
Twisted Pine – American Amber (Gold 1996), Big Shot Espresso Stout (Silver 2008), Honey Brown
Upslope Brewing: IPA, Pale Ale, Tap Room Special
Wynkoop Brewing: B3K Schwarzbier (Gold 2008), Wixa Weiss (Gold 2008), Orville Belgian-style Sour, Belgorado Harvest IPA
22 Exceptional Breweries, 61 Exceptional Beers