The Full Pint 7th Anniversary – August 9, 2014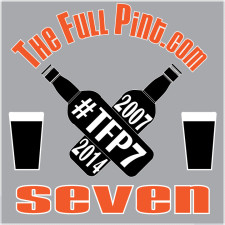 The Full Pint is turning 7, and like the past two years, we are throwing a bash like none other. We're moving this year's party to San Diego, and the legendary Toronado San Diego will be the host of this grand event.
Here are the details we have for you so far, consider this a live document that will be updated as more info becomes available.
What: The Full Pint 7th Anniversary Celebration, an event featuring the most tasty and rare beers under one roof.
When: August 9th, 2014 – VIP Session 1pm – 4pm, General Admission 4PM – Closing
Where: Toronado San Diego 4026 30th St, San Diego, California 92104  toronadosd.com – @toronadosd – facebook
Details: For those who did not attend the past two years, this is a very special beer event. We will be offering a VIP Session and a General Admission Session.  The VIP Session will consist of 1 commemorative glass, 8 taster tickets and 1 meal ticket. Those who don't make it to the VIP session, the General Admission will begin at 4PM, you will pay $10 at the door for a commemorative glass, and you will be able to purchase special beers as you go.
Price: VIP Session Tickets are on sale here for $75.00. General Admission will be $10 at the door after 4PM, people will be let into the party as room becomes available.
Safety: We want to make sure that you not only have a great time, but also have a safe time. Please consider booking a hotel and cab ride for this event. We will be working with the folks at Toronado for a possible group rate/shuttle service hotel deal.  Also, drink lots of water before hand and during the event, and have a big breakfast.
If you would like to be the official sponsor of this event, and have your company's name in the title and on the program, please email  [email protected] .
TENTATIVE  BREWERY/BEER LINEUP: We know there are so many beer festivals and parties to choose from, that's why we work closely with our brothers and sisters in the craft beer industry in order to deliver a once in a lifetime type of experience. Here are some of the breweries we are teaming up with in order to bring you the rarest and most delicious beers we can round up.
If you aren't on this list, and feel you should be, let's chat. There are still more brewers to announce, and actual beers being poured will be announced shortly. We have good reason to believe this list to be accurate, however things happen so we have to say "this list is subject to change." 
AleSmith Brewing
Almanac Beer Company Dogpatch Strawberry
Alpine Beer Company
Beachwood Brewing
Bootleggers Brewing
Bottle Logic Brewing
Cigar City Brewing
Crooked Stave Artisan Ales
Dogfish Head Red and White 2012
Drake's Brewing
Eagle Rock Brewery
El Segundo Brewing
Faction Brewing
Firestone Walker The Full Pint Anniversary Ale – 'Ballenist Stout', a blend of all the FSW Stouts
Golden Road Brewing Barrel Aged Hudson Porter
Hangar 24
Heretic Incubus – Bourbon Barrel Aged Imperial Stout
Hill Farmstead
Hoparazzi La Tarte Raspberry – Sour Ale with Raspberries
Hoparazzi La Tarte Mango Lassi – Sour Ale with Mangos and Honey
Jester King
Lagunitas
La Quinta Indian Canyon IPA
Listermann Brewing/Triple Digit Cinnamon Roll Chickow Imperial Brown Ale
Mostra Coffee
Modern Times Beer
Noble Ale Works
Oskar Blues
Pizza Port
Prairie Artisan Ales
Russian River Brewing
Sierra Nevada Brewing
Sixpoint Craft Ales
Smog City Brewing Hoptango IPA
Surly Brewing
Societe The Butcher
The Bruery – Dad's Infidelity
Three Weavers Brewing Expatriate IPA
Three Weavers Brewing Southbounder Imperial Coffee Stout