Tentative Tap Lineup for Inaugural Triple IPA Fest at 38 Degrees Monrovia – 2/25
Our friends, our pals, our amigos over at 38 Degrees Ale House & Grill in Monrovia, CA are holding their first ever Triple IPA festival.  This is the same fun venue that hosted The Full Pint 9th Anniversary last summer.  If you are in the area, this is sure to be a great craft beer drinking experience.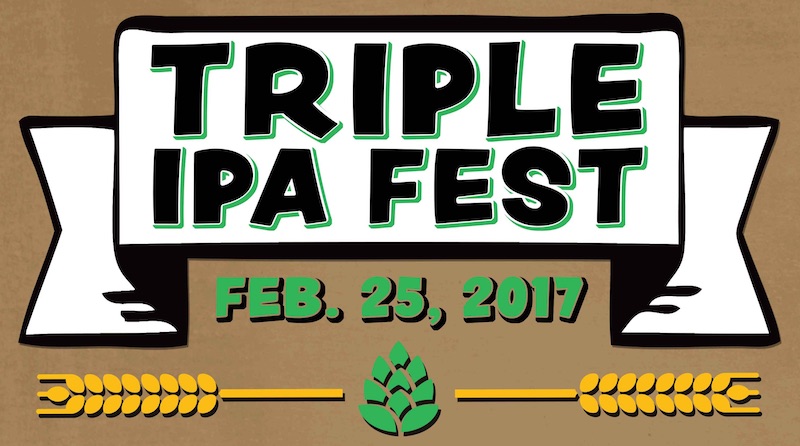 What: Even though our Alhambra location will be getting Pliny The Younger Triple IPA, we won't be getting it here in Monrovia. Instead of crying in our beer, we are going to hold a Triple IPA fest, in which you will be able to come sample a dozen or so of the best made Triple IPAs. Heck, you mind find these ones to be superior to the 'Younger.
For those not familiar with Triple IPA, they are typically more aromatic and much stronger than a normal strength IPA, hovering around 10-12% abv. For those thinking these will be more bitter, it's actually just the opposite. In order to accommodate the massive level of hops, a large supporting amount of malt is used to give it a nice sweet fruity finish.
The Food Situation: We will be serving our full regular food menu the whole day.  With beers this strong, we suggest ordering one of our heartier dishes.
When: 11am to 1am Saturday February 25, 2017.
Where: 38 Degrees Ale House & Grill 110 E. Colorado Blvd Monrovia, CA 91016
How Much: This event is a "Pay as You Go" format.  There are no tickets, you just order from your bartender or server.
Parking: There is plenty of free parking in Old Town Monrovia. If you plan to stay for a while, we strongly suggest finding a designated driver or using a ridesharing smartphone app such as Uber or Lyft.
Here is the tentative tap line up for this Saturday. More may be added last minute.
Beachwood Brewing: Hops of Fury 11%
Kern River Brewing Co: Hop Nookie 11%
Acoustic Ales: Hopway to the Danger Zone 10%
El Segundo Brewing: Power Plant 11.7%
Transplants Brewing: Not Getting any Younger 10.5%
Knee Deep Brewing: Simtra 11.25%
Knee Deep Brewing: No Seeds No Stems 10%
Pizza Port: Thruster 11%
Pizza Port: Party Sauce 10%
Amplified Aleworks: E11even 11.5%
Bootleggers: Mouth Menace 11.6%