Southern New Hampshire Brewers Festival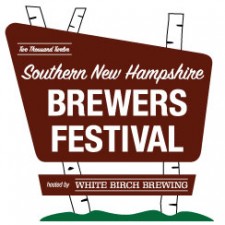 The Southern New Hampshire Brewers Festival is a small festival featuring White Birch Brewing and other unique craft brewers from NH, New England and select locations around the US. Each brewery pours it's own beers and with one session and limited ticket sales you will be able to speak with the brewers about what you're drinking.
There will be a main tent with the brewers and restaurants. There will be a tent with picnic tables to relax and enjoy your beer and food. For cigar aficionados we will also have a separate cigar tent where you can enjoy a White Birch beer and a great cigar.
The official 2012 line up of brewers and beers as of 6/28/12:
About the host, White Birch Brewing 
In 2009, White Birch Brewing opened its doors as a nano brewery making beer 15-20 gallons at a time. It was against all recommendations from the industry experts. In 2011 as a seven barrel brewery, we hosted our own beer festival and did things our way against all expert recommendations, again.
Where will the festival be held? 
Under the big top at White Birch Brewing's new location at 1339 Hooksett Road in Hooksett, New Hampshire come rain or shine.
When is the fest? 
Saturday, July 14, 2012 with a VIP session beginning at 5 p.m. and general admission starting at 6 p.m. The entire event will end at 9 p.m.
How much are tickets? 
$45 for the general admission. Admission is 6-9pm
$60 for the VIP. Admission is 5-9pm
Due to customer request, this year we're adding a designated driver ticket for $35. Designated drivers enter with their group. 
What does a VIP ticket get me? 
The VIP tickets allow you in to the festival an hour earlier than the rest of the crowd. It will give you a chance to sample beers with shorter lines, and speak with the brewers in a more quiet setting. Outside of that, both tickets are identical.
What do Designated Drivers get? 
We appreciate those who make sure everyone that's attending the fest gets home safely. That why this year we've added a designated driver ticket. DD's will get a commemorative cup to enjoy non-alcoholic drinks from. We have a zero tolerance policy for DD's who are caught consuming any beer. The driver and their entire party will be asked to leave if caught drinking beer.
What is included with the ticket price? 
Beer poured by the breweries
Tasting glass
Festival program
Food from three great restaurants
Plenty of drinking water
Free parking
How does the cigar tent work? 
This year the cigar tent is integrated into the festival grounds. There will be a great selection of cigars available for sale from our friends at Twins Smokeshop. Enoy the fest, the food and then relax with a cigar and a beer.
www.southernnhbrewersfestival.com – @snhbfest – Facebook