Crux Fermentation Project Grand Opening THIS SATURDAY June 30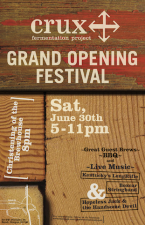 Grand Opening (or Cruxapalooza!) Saturday, June 30th, 5pm to 11pm
Join our celebration of summer and the opening of Crux!
It's been a once-in-a-lifetime journey, and we want to share the fruits of our passion, excitement, time, and energy with you, our friends.
Help us kick-start our brewery in true community fashion with a collective christening of the Crux Brewhouse. And, to ensure we celebrate in proper style, we'll have some wonderful and unique guest beers on tap, shared by friends in the industry.
We're turning our parking lot into festival grounds for this all-out, family-friendly event. Take a tour of our brewery and Tasting Room, enjoy a delicious BBQ and get jiggy with live good-times-dancing music. From Bend we have Kentucky's LongRifle and Boxcar Stringband— making the trip down from Portland to close out the night— Hopeless Jack & the Handsome Devil. Wear comfortable shoes because you will be dancing, beers in hand.
At 8pm, we'll hold a special toast centered on the brewhouse christening. And, the community is invited to play a special part. Everyone's invited to bring an object that will be placed in a special metal box to be sealed and affixed to the deck of the brewhouse forever. This object needs to fit in a slot measuring 1/4″ by 2″. It can be a medallion, coin, note, photo, or token, that either represents you or your wishes for this new brewery. With this you will forever be a part of the Crux brewhouse and influence the soul and the sprit of each brew we produce.
The evening is sure to reach a high point with an amazing (cross fingers) sunset over the Cascades— from Mt. Bachelor to North Sister— all visible from Crux.
Help us make it great and share the invite with all your friends. It just wouldn't be the same without you.
Doors open at 5pm.
Google maps link:
Also of note, we've hired some key employees.
Pat "Patio" Shea is our first hire to join and assist Larry Sidor on the brewery floor as our "Yeast Wrangler". A brewing veteran hailing most recently from Three Creeks Brewery, "Patio" and Larry worked together at Deschutes many years back. Patio brings a broad skill set to the brewing team getting his brewing start back in 1995. Patio will start part-time as he transitions from Three Creeks and move into a full time position later this summer. Look for Patio's charisma and humor on display as he assists Larry in brewing some tasty brews out of the copper brewhouse.
Christina LaRue has joined our team as the "Crux Conductor" or front-of-the-house manager of our tasting room. We're excited to have her lead the tasting room team in coordination, organization, service- ization and probably some other 'ization' words too. She's thoughtful, direct, and smart. We're so excited to have her!
Jackson "Rooster" Higdon brings his creativity, passion, energy and his ginger hair to Crux– we wouldn't be surprised if Rooster shows up to work at dawn, crowing. He'll be the key man in our humble kitchen carved out of the SE corner of the brewery. While Crux is not a full restaurant, Jackson built a menu that pairs foods with the Crux ales we'll be offering. Pushing it a bit further, Jackson ambitiously plans to cook as many dishes as possible with beer— imagine ale-steeped hummus, or a rich stout used in a Balsamic reduction. We're sure you'll find something tasty from our simple menu to accompany a fine Crux ale poured from behind the bar.
We've completed hiring the balance of our tasting room staff and they'll be ready for action on the June 30th Grand Opening celebration. We've focused on craft enthusiasts that share an appreciation for the best in craft beer. We've been humbled by the folks we've met who were interested in joining the team at Crux and look forward to letting our team loose to serve the community.