Philly Beer Week 2010 – Over 865 Events and 9 Fests Planned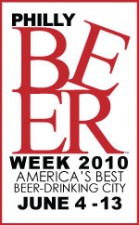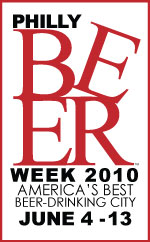 PHILADELPHIA, PA – The third-annual Philly Beer Week (PBW) which celebrates the region's vibrant beer culture has just announced this year's list of beer festivals – nine in all – from June 4 to June 13.  New this year is The Forum of the Gods, a spirited afternoon of beer talk, beer drinking and big names in brewing, with all proceeds going to benefit PBW.  Over 180 bars, restaurants and breweries will host over 865 events during Philly Beer Week 2010.

The Forum will be held on Thursday, June 10 from 2 p.m. until 5 p.m. at Johnny Brenda's (Frankford and Girard Avenues).  Tickets are available now online at www.phillybeerweek.org and are $25 per person, which includes beer from each of the four participating speakers.  The panel will include:  Jim Koch of Boston Beer and Samuel Adams;  Phil Markowski of Southampton Publick House;  Tom Kehoe of Yards Brewing and Wendy Yeungling of D.G. Yeungling & Son.  The forum will be moderated by PBW Executive Director Don "Joe Sixpack" Russell.
Other major events will include:
·         Friday, June 4:  Opening Tap:  The kick-off to Philly Beer Week.  The best – and only – way to experience the region's incredibly diverse beer-drinking culture in one place at one time; representatives from 31 area breweries will showcase their best offerings and beers made for Philly Beer Week.  $40 per person; 7:30 p.m.; Independence Visitor Center, 6th and Market Streets.
·         Saturday, June 5:  Philadelphia Global Beer Expo:  Featuring a host of great beers from around the world, the global beer expo brings the best of non-local beers to Philadelphia.  $45 per person; 12 noon to 3 p.m. and 4:30 p.m. to 7:30 p.m.; Simeone Automotive Museum, 6825 Norwitch Drive.
·         Saturday, June 5:  International Great Beer Expo:  An international beer tasting event that highlights some 50+ brewers and 100+ beers from such diverse countries as Belgium, Japan and the United States.  $45 per person in advance; $60 per person at the door; 12:30 p.m. to 4 p.m. and 5:30 p.m. to 9 p.m.; Philadelphia Cruise Terminal at the Navy Yard; 5100 South Broad Street.
·         Saturday, June 5:  German Bierfest:  A family-friendly day of outdoor beer tasting with a host of German and German-style beers.  $30 per person; 12 noon; German Society of Pennsylvania; 611 Spring Garden Street.
·         Sunday, June 6:  Smoke 'Em if Yous Got 'Em:  An indoor/outdoor beer-and-BBQ extravaganza hosted by Yards Brewing Company, with 30+ smoked beers, food from 15 amateur BBQ chefs and additional catered goodies from Tommy Gunn's and Percy Street Barbecue.  The Jazz Horses and the Kevin Hanson Trio will provide musical entertainment.  $50 per person; 1 p.m.; Yards Brewing Company; 901 North Delaware Avenue.
·         Thursday, June 10:  Forum of the Gods:  An informal panel discussion featuring some of the biggest names in beer culture.  $25 per person; 3 p.m.; Johnny Brenda's Upstairs; Frankford and Girard Avenues.
·         Friday, June 11:  East vs. West Exotic Beer Tasting:  A sampling event that pits East Coast and West Coast breweries against each other, with limited vintage aged brews and brewers' favorites featured.  Live music and hors d'oeuvres will round out this once-in-a-lifetime event.  $60 per person; 7 p.m.; Stoudt's Brewery; 2800 North Reading Road, Adamstown, PA.
·         Saturday, June 12:  20th Annual Michael Jackson Tutored Tasting:  This year's "Beer as Art"-themed tastings will be led by renowned expert Randy Mosher and will include a one hour tutored tasting followed by open sessions with 50+ beers.  $50 per person; 12 noon – 3 p.m., 4 p.m. – 7 p.m., 8 p.m. – 11 p.m.; HeadHouse restaurant; 122 Lombard Street.
·         Sunday, June 13:  2nd Annual Zythos America:  Belgium's greatest beer event comes to Philadelphia for the second year, with more than a dozen of that country's top brewers scheduled to appear.  $65 per person; 12 noon – 3 p.m. and 4 p.m. – 7 p.m.; Penn Museum; 3260 South Street.
PBW is an annual celebration of beer culture that includes tastings in cozy neighborhood taprooms of locally crafted brews, educational offerings such as guided tastings and lectures and prix-fixe beer-pairing dinners across the region.  The largest event of its kind in the nation, it was spawned a host of similar events across the country and remains, in its third year, the premier beer festival in America, set in "America's Best Beer-Drinking City."
For general information about PBW2010, including the ever-expanding schedule of events and list of participants, please visit www.phillybeerweek.org.