American Craft Beer Week – Cigar City Brewing's Draft Goodies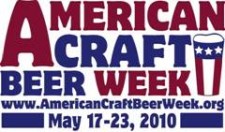 In addition to Jai Alai and Maduro pints for $3.50 all week we'll have the following limited beers this week:

Craft Beer Week Draft Goodies:
(As each one kicks the beer beneath it in the order will replace it)
Brandy Barrel Aged Zhukov's Imperial Stout
2009 Zhukov's Imperial Stout
Bourbon Barrel Aged Hunahpu's Imperial Stout
Brandy Barrel Aged Hunahpu's Imperial Stout
Also all week we'll have on:
Oatmeal Raisin Cookie
Humidor Series: Gruit
Hunahpu's Imperial Stout
Cask:
We'll have a cask of 110K+OT Batch #3 (The Other West Coast) Double IPA which will be tapped at noon on Saturday. Snifters are $6 per. This is the first opportunity to try this beer before it is released on the 28th.
Guest Taps:
Swamphead Cotton Mouth Wit
Swamphead Midnight Oil Stout
Brandy Barrel Aged Hunahpu's Imperial Stout Bottles:
Only 84 bottles were produced and only 60 of those will be sold. Since we have so few we are getting them to people thusly: Each day of Craft Beer Week you may obtain one ticket for the drawing of the beer. On Saturday we start drawing tickets at 11 AM and will draw tickets every half hour until all the bottles are accounted for. If your ticket is selected you may buy up to two bottles at $25 per. You MUST be present when your ticket is drawn. With so few bottles to go around we are purposely making it so the people that REALLY want them have the best chance at them and we figure this is the best way to facilitate that.