Stone 14th Anniversary Celebration Details Are Finally Here!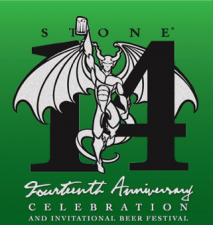 The Stone 14th Anniversary Celebration & Invitational Beer Festival is coming up on Saturday, August 21st. This year we've expanded the celebration over two days to include two more events:
Friday Night VIP/Brewers Reception
Friday, August 20th | 6:00 pm – 9:00 pm
For the first time ever, we're inviting the public to join the party with our special guest brewers the evening before Saturday's big festival! You'll get the opportunity to rub elbows with dozens of the best craft brewers in the world while sampling over 20 hand-picked beers. In addition, complimentary food will be created exclusively for the reception by festival vendors and our own Stone Brewing World Bistro & Gardens. You'll even get to try a special variety of Mike's Beer Cheese made with Stone 09.09.09 Vertical Epic Ale!
Stone 14th Anniversary Celebration & Invitational Beer Festival
Saturday, August 21st
SESSION A 11:00 am – 2:00 pm
SESSION B 3:00 pm – 6:00 pm
Our annual Anniversary Celebration has become the biggest craft beer festival in Southern California, and this year it's even bigger! We've invited dozens of craft brewers from all around the globe to join us, and they're bringing more than a hundred of their most exceptional beers with them (check out last year's awesome beer list!). The gorgeous setting at CSU San Marcos, a plethora of amazing brews, our beloved Arrogant Bastard Ale onion rings, Mike's Beer Cheese, and delicious homebrewed sodas all add up to one seriously good time.
Saturday Rare Beer Section*
Saturday, August 21st | 11:00 am – 6:00 pm
This new and special section will be located outside of the general festival area, and it will be open during both sessions AND during the intermission!  In addition to the opportunity to sample some truly rare and exceptional beers, you'll have in and out privileges between the Rare Beer Section and the main festival. Dozens of extremely hard-to-find (if not impossible) and one-offs on tap mean that this is the place you really want to be. To make it even more memorable, every half hour, until 5 pm, one of our guest brewers will make an appearance to chat, sign autographs, and perhaps even bring an extra-special brew to share!
*All attendees on Saturday will receive 10 tasters total. No additional tasters will be sold, so pace yourself accordingly! No outside beer will be allowed into the festival.