Inaugural Big Texas Beer Fest This Weekend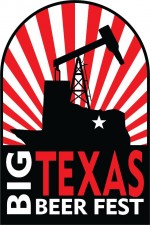 Dallas, TX – The Big Texas Beer Fest is North Texas' first 100% craftbeer inspired beer festival. Grassroots beer, food, and music festival organized by husband and wife team, Chad and Nellie Montgomery.
The festival will feature 80-100 breweries with 300+ beers from all over the world. The festival will focus heavily on the emerging Texas craft beer scene.
A number of Texas breweries have already promised us exclusive kegs and firkins for this event, with many more planned to come.
The festival will also feature a lot of food trucks to sample local artisanal food.
Free cheese samples and lots of other free stuff to check out.
Local Dallas music act The O's (www.wearetheos.com) to perform!
PARTICIPATING BREWERIES (CONFIRMED!)
Abbey Beverage Co.
Abita Beer
Ace Premium Hard CidersAdelbert's Brewery
Affligem
Alaskan Brewing Co.
Armadillo Ale Works – Serving Craft Sodas
Avery Brewing
Ayinger
Ballast Point
Bard's Tale Beer Company (Gluten-Free)
Bavik
Bear Republic
Belhaven
Big Sky Brewing
Bitburger
Blanche de Bruxelles
Blue Moon
Boulevard Brewing Co.
Breckenridge Brewery
Brooklyn Brewery
Brasserie D'Achouffe
Chimay
Choc Beer
Clown Shoes
Crispin Cider
Deep Ellum Brewing Co.
Deschutes Brewery
Dogfish Head
Duvel Moortgat
Franconia Brewing
Franziskaner Beer
Great Divide Brewing Co.
Green's (Gluten-Free)
Guinness
Harpoon Brewery
Heineken USA
Hoegaarden
Hofbrau
Imperial
Jester King Craft Brewery
Julius Echter
Krombacher
Kronenbourg
Lakewood Brewing (Will not be pouring beer)
Laughing Dog
Leffe
Left Hand Brewing
Leprechaun Hard Cider
Leinenkugel's Brewing
Liefmans
Lindemans
Magic Hat
Maui Brewing
Moretti
Negra Modelo
New Belgium Brewing
No Label Brewing
North Coast Brewing Co.
Ommegang
Oskar Blues Brewery
Peticolas Brewing
Pinkus
Pyramid
Rahr & Sons Brewing
Rochefort
Saint Arnold
Samuel Adams
Samuel Smith
San Miguel
Santa Fe Brewing
Shiner Beers
Sierra Nevada Brewing
Southern Star Brewing
Spaten
Squatters Beers
Staropramen
Steinlager
Stella Artois
Stone Brewing
Timmerman's
Troubadour
Unibroue
Van Steenberge
Victoria
Wasatch
Weihenstephan
Well's & Young's
Westmalle
W.M. Magner's Cider
Woodchuck Cider
Xingu
Zatec
Won't you please come celebrate what's sure to be one of the biggest and best beer festivals in 2012!?
Designated driver tickets will be available for $20.
General admission for $35
VIP** for $60. WE WILL NOT HAVE ANY "CONVENIENCE" FEES ADDED TO THESE TICKET PRICES!
** VIP passes will include 1 hour early admission and first crack at rare/special beers. Also includes a Big Texas Beer Fest branded lanyard and Brewcaddy (www.brewcaddy.com) to hold your tasting cup throughout the festival.
www.bigtexasbeerfest.com – @bigtxbeerfest – Facebook