Waves Of Grain Beerfest April 22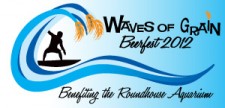 Manhattan Beach, CA – Craft beer lovers can toast to a noteworthy cause at the first annual "Waves of Grain Beerfest" on April 22 from 3 to 6 p.m. More than 25 local and regional artisanal breweries will be participating in the event at Shade Hotel, recently named one of the top 25 "trendiest hotels" in the United States by TripAdvisor. Other event co-hosts include BREWCO of Manhattan Beach and Rock & Brews of El Segundo. Local breweries scheduled to attend include Bootleggers Brewery from Fullerton, Cismontane Brewing Company from Rancho Santa Margarita, Golden Road Brewing from Los Angeles, El Segundo Brewing Company, Hangar 24 Craft Brewery from Redlands, Strand Brewing Company from Torrance, Smog City Brewing from Tustin and Old Orange Brewing Company from Orange.
Other breweries in attendance will include Allagash Brewing Company, Anchor Brewing, Ballast Point Brewing Company, Black Market Brewing Company, Chimay, Drakes Brewing, Firestone Walker Brewing Company, Karl Strauss Brewery, Kona Brewing Company, Lagunitas Brewing Company, Lost Coast Brewery, New Belgium Brewing, North Coast Brewing Company, Schneider-Weisse Brewery, Sierra Nevada Brewing Company, Stone Brewing Company, Unibroue and Widmer Brothers Brewing. A brew master or senior representative will be on site for each participating brewery.
In addition to some of the premier breweries in attendance, food will be available to guests for a small additional cost. Mucho Ultima Mexicana will offer guests hand-crafted tacos from their new taco cart and Shade's own restaurant and lounge, [email protected], will delight guests with barbeque tri-tip sandwiches, turkey and beef burgers and pretzel bites.
Tickets are $40 per person with the proceeds benefitting Roundhouse Aquarium, an environmental organization committed to fostering and promoting the education of the oceans, tidelands and beaches of Southern California. Not only will attendees drink to a good cause, but they will also receive a commemorative beer glass to take home. The event is limited to 200 attendees, and is expected to sell out quickly.
"We are looking forward to welcoming some of the finest breweries to Shade Hotel," said Michael Zislis, owner of the hotel. "Even more exciting, we are looking forward to hosting our friends, neighbors and out-of-towners to our event for a night of craft beer and delicious food."
Shade Hotel is located at 1221 N. Valley Drive in Manhattan Beach. To purchase tickets or for more information about the Waves of Grain Beer Festival, call 310-546-4995 or visit Shade Hotel at www.shadehotel.com.
About Shade Hotel
Shade, Manhattan Beach's premiere luxury boutique hotel, intertwines California beach culture and contemporary sophistication just 15 minutes south of LAX. Merely two blocks from the beach, it is surrounded by thriving upscale dining and shopping destinations in the heart of downtown Manhattan Beach. The hotel's energized yet refined interior was designed by Christopher Lowell, and boasts stainless-steel and natural touches that include river rock, running water and exotic bamboo to encourage an environment of balance, harmony and spiritual well-being. Guests will enjoy accommodations that will allow them to host their dream beach wedding, host a business meeting or enjoy a refreshing California coastal living experience at the hotel's incredible indoor and outdoor dining at [email protected], and relaxation poolside at the rooftop Skydeck bar and pool.
About Rock & Brews
Rock & Brews, partially owned by media mogul and rock legend Gene Simmons, captures the excitement of live concerts in an authentically themed backstage environment including Rock & Brews' "The Great Wall of Rock," rock posters and rock art and multiple flat screen televisions. With an ambiance reminiscent of being back stage at a rock event, Rock & Brews features a casual, friendly, energized environment decked out with picnic tables, concert lighting, and retractable projection screens and speakers that create a 360-degree experience. The venue is designed to be family and dog friendly with a play area for kids and a large open-air area where four legged guests can howl to the tunes. The El Segundo dining destination serves rock musicians' favorite foods and highlights an ever-changing, award-winning craft beer selection with hundreds of artisanal breweries featured from around the world. For more information, call 310.615.9890 or visit www.rockandbrews.com.
About BREWCO
BREWCO, recently awarded "Best Steak Under $20" by Easy Reader News "Best of the Beach" contest, is a Manhattan Beach favorite best known for accommodating guests in a laid back beach atmosphere with plasma televisions screens that play the big games while serving more than 48 beers on tap and over 20 bottles of beer. Food offerings include sandwiches, burgers, salads, and house favorites that include "Build Your Own Pizza," Greek Tacos and Southwestern Penne Pasta. BREWCO is located at 124 Manhattan Beach Blvd in Manhattan Beach. For more information, call 310-798-2744 or visit brewcomb.com. About Roundhouse Marine Studies Lab and Aquarium The Roundhouse Marine Studies Lab and Aquarium is a non-profit organization committed to fostering and promoting the public study of, and interest in, the oceans, tidelands and beaches of Southern California, the marine life therein, and the impact of human population on that environment. Roundhouse Marine Studies Lab and Aquarium is located at the end of the Manhattan Beach Pier in Manhattan Beach, Calif. The aquarium is open Saturdays and Sundays from 10 a.m. to sunset and Monday through Friday from 3 p.m. to sunset. Group and education tours are offered.