Karl Strauss Hosts Pro-Am Brewing Contest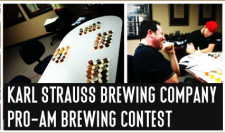 Are you a Homebrewer? Do you want to spend a day brewing with the Karl Strauss Brewing Team and have your beer tasted by thousands of fans? Well, here's your shot.
Karl Strauss Brewing Company will once again be hosting its Pro-Am brewing contest this June. The Grand Prize winner will brew in collaboration with our brewing team and will also have their beer debuted in our brewery restaurants. In addition, the winning beer will be entered to compete in this year's GABF Pro-Am competition.
This is where you come in. We know you've got great ideas and some tasty brews just waiting to be brewed on a large-scale system. So, dust off that carboy and get the creative juices flowing. The contest is open to any beer style and is free to enter. Read the details below and good luck! Cheers.
FOLLOW THIS LINK FOR RULES and DETAILED INFO ON HOW TO ENTER