Elliott's Pour House For Baltimore Beer Week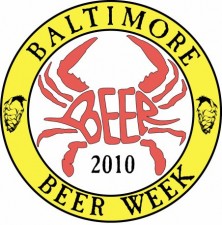 Local beer spot, Elliott's Pour House is shining up their pint glasses and preparing for the Charm City tradition known as Baltimore Beer Week. Located in Brewer's Hill, the atmosphere is quaint and casual and beaming with Baltimore pride. The crown jewel of the establishment is the row of 20 craft beer taps salvaged from the old Crabby Dick's of Fells Point, known to the locals as only "The Tower."
During Baltimore Beer Week a visit to Elliott's Pour House (or EPH as it's known around town) is a must. Each date of Beer Week a different beer from The Tower will be highlighted and offered at $5 for your first pint, and $2 for each additional, and the pint glass is yours to keep.
The beer schedule is as follows:
Oct. 11 – Troegs Pint Night 7pm-close
Oct. 12 – "Steal the Glass" with Crispen Cider featuring the East Coast sales rep, Mario Lopez, 6pm-TBD
Brooklyn Pint Night 7pm-close
Oct. 13 – Weyerbacher Pint Happy Hour featuring Brewer/Production Manager, Chris Lampe giving out Weyerbacher pints with the purchase of a Weyerbacher draft.  4pm-7pm
Sweet 16 Beer Madness Tournament. 16 Beers from The Tower (4 India Pale Ale, 4 Local, 4 Seasonal, and 4 Pilsners) are bracketed and compete round by round to be named "Best Beer on The Tower."  30 3 oz beers for $20. 7pm-close
Oct. 14 – Lagunitas Pint Night 7pm-close
Oct. 15 – Flying Fish Pint Night featuring Flying Fish owner Andy Newell giving away Flying Fish pints with the purchase of a Flying Fish draft. 6pm-9pm
Oct 16. – Flying Dog Pint Night 7pm-close
About Elliott's Pour House: Elliott's Pour House is located on the corner of Hudson and Eaton in Brewer's Hill. The large selection of craft beers on tap is what makes this neighborhood bar so unique. Opened in 2006 by owner Jeff Mason, EPH was named one of the Best Beer Bars in Baltimore by Beer Quest and received a rating of 4.8 out of 5 from Baltimore Metromix. Elliott's Pour House is a local haven for the Baltimore beer lover.
www.elliottspourhouse.com
3728 Hudson Street
Baltimore, MD 21224
410.276.2200