LA Beer Week: Pictures of Dogfish Head Tasting @ The Foundry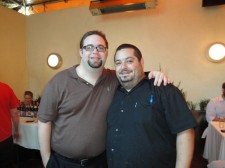 LA Beer Week was in full swing last night, as The Foundry on Melrose and Dogfish Head hosted Dionicess VII, an 8 course pairing of Bitchin' Brews & Blissful Bites.
The Foundry on Melrose is home to celebrity Chef Eric Greenspan, along side him were Randy Clemens and Gev Kazanchyan and Dogfish Head West Sales Rep Bryant Goulding to introduce the Dogfish Head beers as well as the dishes they would be pairing with them.
I took my wife to this event, as this was close to our wedding anniversary, and she loves tastings. Not being a beer fan, I thought she might dig a few Dogfish Beers, as they are not what you would consider a traditional beer. For the most part, she did, although someone had to drive, so I got to double up on some pretty potent beer for a few hours.
Here is a quick rundown of the menu, which was pretty darn amazing:
Hors D'Oeuvre – Saffron Clam Chowder with Midas Touch
Amuse – Albacore Tartare with Chateau Jiahu
1st Course – Smoked Cod Brandade with Sah'Tea
2nd Corse – Potato Gnocchi Gratin with Burton Baton
3rd Course – Chili Glazed Pork Belly with 90 Minute IPA
Intermezzo – Festina Peche Sorbet with Festina Peche
4th Course – Hanger Steak with Palo Santo Marron
Dessert – Walnut Brioche French Toast with Bitches Brew
It was a great way to celebrate LA Beer Week, my wedding anniversary and 10.10.10. Chef Greenspan introduced each meal, and towards the end was very candid with the group. He confessed craft beer wasn't getting enough play at The Foundry, but that was about to change. Randy Clemens is going to do the lords work, and make sure a new craft beer is featured each month at The Foundry, and that an appetizer and entree will be paired with that beer for the complete experience. Stay tuned as we find out more details on that. Special thanks to Stan at Drink Eat Travel. I ate my Albacore Tartare before I could snap a picture, so Stan let me take a snapshot of his.