LA Beer Week – Pictures from Opening Night at Naja's Place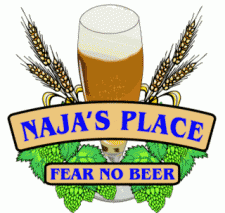 LA Beer Week kicked off with a bang, as Naja's Place in Redondo Beach, CA hosted not just their usual Stone Brewing event, but Stone Total Tap Tower Takeover 2010.
The event kicked off at 7:00PM, and we heard the commotion all the way from the parking lot. While Stone would like to call this Stone Total Tap Tower Takeover, more appropriately, it should have been called Stone Shoreline Shit Show.
There were so many people with the same idea: let's try all the goodies from Stone at Naja's tonight. The place was armpit to armpit as folks held their glasses up in the air, hoping the bartender would catch their eye.  The big hits of the night were all the dry-hopped varieties of Stone's already big hop bombs, some of their wood aged beers, such as Wine Barrel Aged Old Guardian and Stone 07.07.07 Vertical Epic Ale. It was also cool that everyone got first crack at Stone 10.10.10 Vertical Epic Ale. My nose is a bit stuffy, so I didn't want to try it until that clears up.
Here are some pictures from the event, a bit fuzzy due to the lighting, but you'll get the spirit of them none the less.