Crooked Stave Wild Wild Brett Violet Release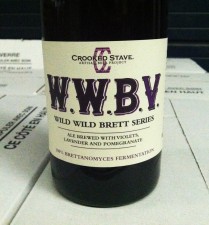 Denver, CO – We are very excited to announce that we will hold a bottle release for Wild Wild Brett Violet on May 19th!!! In order to celebrate the completion of the Wild Wild Brett Series and bottle release for Wild Wild Brett Violet, we will be hosting a ROY-G-BIV Day (or Rainbow Day as it has been informally mentioned)!
The bottle release of Wild Wild Brett Violet will START at 12:00pm and last until the bottles are sold out. Also, there will be a 6 BOTTLE LIMIT for Violet. Beginning at 1:00pm we will tap limited offerings of ALL the Wild Wild Brett Series. Below is a list of details:
What? ROY-G-BIV Day (Rainbow Day)
When? Sunday, May 19th @ 12:00pm
Where? Crooked Stave Barrel Cellar (1441 W. 46th Ave #19, Denver, CO)
Tapping schedule:
1:00pm Wild Wild Brett Rouge
1:30pm Wild Wild Brett Orange
2:00pm Wild Wild Brett Yellow
2:30pm Wild Wild Brett Green
3:00pm Wild Wild Brett Blue
3:30pm Wild Wild Brett Indigo
*Wild Wild Brett Violet, as well as St. Bretta and Hop Savant will be on tap ALL DAY!
If your excitement allows you to continue reading we will now give a concise introduction to Wild Wild Brett Violet. Like all of the Wild Wild Brett Series, Violet is a 100% Brettanomyces beer. Violet was brewed with pomegranate and lavender and fermented on whole fruit passion fruit. After fermentation Violet was then dry-hopped with an experimental hop (Ex. 366) that we received from our growers. Last week we laboriously hand-bottled Wild Wild Brett Violet into 750ml bottles in order to stay true to the Wild Wild Brett Series. As some of you know, we have switched over to 375ml bottles, so this will be our last 750ml bottle in the foreseeable future.
At the moment, Violet is bottle-conditioning and preparing itself for the release on May 19th! Not only is this a meaningful occasion for Crooked Stave, but also for everyone who continues to support the wild and sour beers we are so passionate about! We can't wait to spend ROY-G-BIV Day with all of you!
Cheers,
Crooked Stave
www.crookedstave.com – @CrookedStave – Facebook