Cider Summit PDX June 21st – 22nd, 2013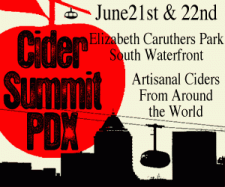 (Portland, OR) – SBS Imports and the Seattle Beer Collective are pleased to announce the return of Cider Summit NW Festival to Portland, OR.  The third annual event expands to two days – Friday, June 21 from 3p-8p and Saturday, June 22 from 12n-6p.  Cider Summit will once again be at Elizabeth Caruthers Park in the emerging South Waterfront neighborhood near the Portland Aerial Tram.  The event is presented by Barbur World Foods & Bushwhacker Cider.
This will be the seventh Cider Summit produced by SBS & Seattle Beer Collective, having launched the concept in Seattle in September 2010 and expanding to Portland and Chicago over the last two years.  Each event features 60+ elegantly crafted ciders from producers in Washington, Oregon, British Columbia, California, Michigan, England, France and Spain..
New for 2013 is the addition of a "Dog Lounge" hosted by DoveLewis, bicycle valet from Go by Bike, a Cider Summit weekend hotel package from The Westin Portland, and expanded food selections.  Cider Summit will also feature a collectible tasting glass this year, replacing the plastic stemware used in previous events.  The event will continue to feature live music and a "bottles to go" store onsite.
"We've been very pleased with the growth of our event in Portland," noted SBS's Ian Roberts.  "We believe we have added some nice features this year which will help us reach an even wider audience of cider enthusiasts."
The owners and cidermakers will be on hand to inform and guide guests through the samplings which will be available in 4-ounce tasting portions.  In addition to the superb range of ciders, the event will feature live music, food from SE Portland's Ya Hala restaurant, sausages from Road Dog, and specially designed filled chocolates from Smitten Truffles.  Brewvana Brewery Tours will run a continuous loop shuttle from SE Portland to the Park and Cider Summit NW also encourages use of the Portland Streetcar to the event
"We believe we've created a unique event," added event co-founder Alan Shapiro of SBS Imports.  "We have found a great home in the South Waterfront neighborhood and we expect a terrific range of ciders.  Interest in artisanal cider is exploding right now, and this event is the premier sampling opportunity for both the cider enthusiast and cider curious."
Tickets are $25 in advance and $30 (cash only) at the door and are available online via Stranger tickets, Umpqua Bank South Waterfront branch, and at many of the area's leading bottle shops. Admission includes a tasting glass and 8 drink tickets.  Additional tasting tickets will be available for sale onsite at $2 per ticket.  Re-admission will be allowed at any time with event wristband and tasting glass.  The event is 21 and over only.  Dogs of all ages will be allowed on event grounds.  For more information including a list of participating ciders please visit www.cidersummit.com.
Cider Summit NW benefits Northwest Cider Association, The Institute for Myeloma & Bone Cancer Research, and DoveLewis Emergency Animal Hospital.  The Northwest Cider Association promotes awareness of artisan produced ciders among the general public and fosters cooperation within the industry for all producers. IMBCR is one of the world's leading independent research organizations developing effective therapies to increase the quality of life and longevity of myeloma patients.  DoveLewis is a 24-hour non-profit emergency animal hospital on the forefront of animal care.
Cider Summit NW is presented by Barbur World Foods & Bushwhacker Cider with supporting sponsors, The Portland Westin Hotel, Brewvana Brewery Tours, Go By Bike, KNRK 94/7 Alternative Portland, Portland Mercury, Maletis Beverage,  Portland Streetcar, and the South Waterfront Community Relations office.
For more information contact:
Alan Shapiro – SBS Imports
206.527.4191