Epic Brewing Announces American Craft Beer Week 2013 Events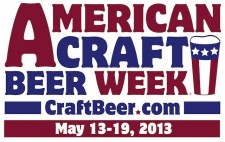 Join the Epic Brewing staff to kick off American Craft Beer Week. We will be on hand to discuss our philosophy on craft brewing and what makes our beer unique. Try a new style and learn more about your favorites.
Tuesday 5/14 5:30 – 7:00pm
Sip and Savor, Bambara Beer Dinner
Featuring small plate pairings of French inspired cuisine and Epic's Belgian beers.
Limited seating available.
Wednesday 5/15 7:00-8:00pm
Lumpy's South Beer Class
Our brewers will be discussing the brewing process, different beer styles, and how to best serve and appreciate craft beer. Discover new pairing ideas and learn what makes each beer unique.
Thursday 5/16 6:00pm
National Toast & Rock – Paper – Scissors Tournament at Dick N' Dixie's
Raise a toast with the rest of the nation's craft beer lovers and sign up for the Rock – Paper – Scissors Tournament.
National toast at 6:00 pm, tourney starts at 8:00 pm. Peruse a large selection of Epic beers between bouts.
Friday 5/17
Hop Syndrome Lager Release
Just in time for grilling season, Epic is releasing Hop Syndrome Lager. A deliciously hoppy lager that is clean and spicy with hints of fruit. It's sure to quench your summer thirst.
Available in the cold case on Friday.
Saturday 5/18 12:00 – 6:00
In-depth Brewery Tours
If you haven't gotten a behind the scenes look at Epic Brewing now is the perfect chance. We will be leading in-depth brewery tours describing the brewing process, ingredients, and equipment.
Limited to groups of 10 and running every hour.
Call ahead to reserve a spot.
Sunday 5/19 12:45 pm
Salt Lake Bees vs Nashville Sounds
Brewmaster Kevin Crompton will be throwing the first pitch at the Spring Mobile Ballpark. Salt Lake Bees vs Nashville Sounds
5:00pm – First Pitch After Party at The Bayou
Join the Epic Brewing staff for a post-game party at The Bayou. If you haven't had the chance to meet the makers of your favorite brew come on by and share a pint.
Follow Epic Brewing on Twitter