5th Annual SanTan Brewing Oktoberfest In Downtown Chandler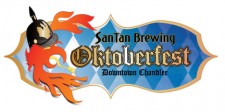 Feast on brats, drink craft beer and enjoy a Bavarian style good time while benefiting Ear Candy at the 5th Annual SanTan Brewing Oktoberfest in downtown Chandler.
Chandler, AZ – Professionally produced by HDE Agency, the 5th Annual SanTan Brewing Oktoberfest is set to invade the streets of downtown Chandler on Saturday, September 29, 2012 from noon- 10 p.m. Celebrated since 1810, Oktoberfest is an annual tradition filled with an abundance of beer, food and festivities as the largest celebrated holiday in Bavarian culture. Today, many cultures around the world partake in the Oktoberfest tradition and fans of würstl, craft beer and good times in Chandler, Arizona are no exception.
Event highlights include live entertainment, a beer pong tournament, bag toss, stein races, keg rolling, keg stacking, tricycle races, bratwurst eating contests and an area for the kids with bounce houses.
The Bavarian-style beer garden will feature San Brewing Company's Oktoberfest brew—a traditional German Lager boasting a toasty strong malt profile with a clean and crisp lager flavor, ABV 5.5%.  Also, Von Hanson's Meats & Spirits will offer a delicious limited-edition SanTan Oktoberfest bratwurst, a signature-style brat prepared with SanTan's Epicenter beer. The Oktoberfest brat will be featured in the bratwurst eating contest.
So, dust off your lederhosen and dirndl and get ready for a smorgasbord of good times at the 5th annual SanTan Brewing Oktoberfest. The festival will be located in AJ Chandler Park across from SanTan Brewing Company at 3 S. San Marcos Place, between Arizona Avenue and Buffalo Street.
Pre-sale admission tickets are available now for $15 at SanTan Brewing Company or online at www.santanoktoberfest.com.  Admission tickets will be $20 at the door on Saturday, September 29. Stay tuned to the SanTan Brewing Oktoberfest Facebook page www.facebook.com/santanoktoberfest for more details, upcoming entertainment announcements and chances to win tickets.
A portion of the proceeds from the SanTan Brewing Oktoberfest benefit Ear Candy, a non-profit organization dedicated to providing youth access to music education. For more information about Ear Candy visit www.earcandycharity.org.
About SanTan Brewing Company
Open since 2007 under the leadership of head brewer and owner, Anthony Canecchia, SanTan Brewing Company has established a strong reputation as Arizona's favorite craft beer. In addition to brewing, SanTan features a friendly neighborhood brewpub in Downtown Chandler, which has quickly become one of the top local food and beer destinations in the East Valley. In 2009, SanTan Brewing began distributing their core and seasonal brews throughout the state of Arizona, operating with a mission to pair craft beer with craft food that would inspire great conversation and good times. The brewpub and SanTan beers have won numerous national and statewide awards including a silver medal at the 2011 Great American Beer Festival, a gold medal at the 2012 US Open Beer Championships and 2011 Best Brewery in Arizona, selected by the Phoenix New Times.
Visit SanTan Brewing Company at 8 S. San Marcos Place, Chandler, AZ. They're open Sunday-Thursday, 11 a.m.- 1am and Friday-Saturday, 11 a.m. – 2 a.m. Also, check out SanTan Brewing Company online at www.santanbrewing.com – @SanTanBrewing – facebook