5th Annual AleFest Columbus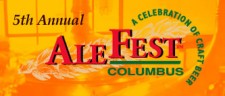 AleFest Columbus is a craft beer festival showcasing the finest beer styles of the world in an educational, responsible, and enjoyable fashion. The festival takes place on February 6th 2010 at the Alladin Shrine Center Ballroom from 2-6pm.
Admission is $35.00 and includes 20 samples of craft beer, commemorative tasting glass, and tasting guide. Must be 21 years of age to attend. Please sample responsibly.
Designated driver/non-drinker $10-must be 21
Admission includes a bottle of water and an AleFest sampling glass as you exit.
Over 150 Craft Beers from more than 60 world class breweries
Increased Draught Ales and Lagers & Select Cask Ales
Commemorative AleFest sampling glass
Event sampling guide with informative beer and brewing references
Live entertainment by Nick Mitchell
Retail sales of beer wearables and memorabilia
Silent Auction featuring beer memorabilia
Raffle-Admission for 2 with hotel night AleFeast Dayton on March 6, 2010 at 5:00 (must be present to win)
2010 Charity: Special Olympics Columbus Schools
SODZ-Columbus Homebrewing Club
Food concession available
Free Appetizer Coupon at The Pub @ Polaris Included
Great Lakes Brewing Company Pen to all for Tasting Notes
Pyramid Lip Balm for Each Attendee
For more info visit www.alefest.com/columbus.htm