3rd Annual Bike To The Ballpark At Sun King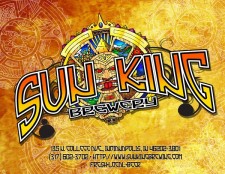 Indianapolis, IN – Since Sun King Brewing Co. opened its doors in July of 2009, we have been a huge supporter of the Indianapolis community, especially the ever growing Indianapolis bike community. On Thursday, April 4th, 2013 Sun King will host the 3rd Annual Bike to the Ballpark.
It's not a rarity to see one of the Sun King trikes peddling around downtown Indianapolis by a brewery representative to accounts or even delivering beer, like was necessary last year during Super Bowl XLVI. Sun King has been recognized as a Bike Friendly Business for two consecutive years and is a huge supporter of local bike organizations like IndyCog, a bike advocacy group, and sponsor of bike racing events like the Indy Criterium. Most recently, Sun King helped put together the reCYCLE pARTS Art Showcase at The Stutz Building which featured local artists creations from scrap bike parts.
"Victory Field is such a great venue to take in a game and we look forward to this event every year because it marks the coming of Spring," said Sun King owner/brewer Dave Colt. "It's also an opportunity to promote bicycling and get people out to enjoy more of what Indy has to offer."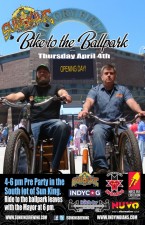 The 3rd Annual Bike to the Ballpark event will take place on Thursday, April 4th, 2013 for the Indianapolis Indians' season opening game. Cyclists will have the opportunity to meet up in the Sun King south parking lot for an escorted ride through downtown lead by Mayor Greg Ballard and his team and then enjoy the first baseball game of the season. Before the ride, individuals can purchase a pint of Indians Lager, the official craft beer of the Indianapolis Indians, and snack on food by Nacho Mama's and Groovy Guys Fries. Mayor Ballard will also be speaking about the evolution of biking in Indianapolis.
Sun King once again has partnered with the Indianapolis Indians and IndyCog for this community event. New partners to this years event NUVO, The Mass Ave Criterium, and The Handlebar.
About Sun King Brewing Company
Sun King Brewing Company is the brainchild of Dave Colt and Clay Robinson. With the help of family and friends– Omar Robinson, Andy Fagg and Steve Koers–the first keg of Sun King beer rolled out the door for delivery in July 2009. Now available on tap and in cans at hundreds of locations around central Indiana, Sun King has grown into the second-largest beer brewer in the state of Indiana. The company's commitment to handcrafted seasonal and specialty beers has been rewarded with multiple medals at the Indiana Brewers Cup, Great American Beer Festival and World Beer Cup competitions. www.sunkingbrewing.com – @SunKingBrewing – facebook
IndyCog
INDYCOG began as a blog in February 2009 with the goal of celebrating and promoting cycling in Indianapolis and providing a common ground for all types of cyclists to gather. In February of 2010, they began to position their organization as Indy's only bicycle education and advocacy group. In November of that year, INDYCOG acquired a 501c3 non-profit status. 

Mission statement: "We believe that the stronger our community, the more apparent our message and our needs as cyclists become, the more likely our needs will be met by our city." www.theindycog.com – @indycog – facebook