3rd Annual Beer Art & Music Festival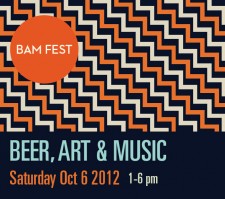 3rd Annual Beer Art & Music Festival hits sunny Santa Monica for a Good Cause!
Santa Monica, CA – On Saturday, October 6, 2012 from 1 p.m. to 6 p.m., 18th Street Arts Center, is bringing its renowned BAM Fest (Beer Art & Music Festival) to the Westside of L.A. Held in the heart of Santa Monica, BAM Fest celebrates the best of locally-produced art and music in conjunction with a variety of delicious craft beers. With 35-plus craft breweries, 4 bands, 3 galleries, open artist studios, an artist market, and gourmet food trucks, BAM Fest is well equipped to draw record-breaking crowds in its third year as one of the West Sides' most anticipated festivals.
Known for being the first Craft Beer Festival in Santa Monica, this year's attendance is anticipated at close to 1,500. And the event is a steal, with tickets priced at just $35 before September 22nd, $40 after that and $45 at the door. BAM Fest attendees not only feel great because they're spending a Saturday afternoon sipping in the sun, meeting artists and checking out great art while listening to groovy tunes, but also because they know that all proceeds benefit 18th Street Arts Center, a 24-year old, influential non-profit arts organization in Santa Monica. Santa Monica resident and owner of Santa Monica Pizza Kitchen, Kaveh Karimi, says "BAM Fest is probably my favorite event of the year. It brings a community together and truly helps a great cause".
This year 18th Street is teaming up with LA craft beer industry veteran Martin Svab (formerly of Stone Brewing Co. & Naja's Place) to help facilitate the beer side of the festival. Participating craft breweries range from big to small, including the popular and larger Sierra Nevada Brewing and Ballast Point Brewing Company to the smaller but equally great Angel City, Monkish and Beachwood Brewing. From cool-fermented lagers to warm-fermented ales, the craft beer offerings at 18th Street's Beer, Art and Music Festival offer a range of styles for tasting enjoyment. For the beer connoisseur, this year BAM Fest is showcasing unique and unreleased beers on tap, including a rare Smog City barrel-aged beer. This year will also include a DuvelMoortgat Brewery tent featuring a number of the Flemish family's Belgian-style beers. And for those that aren't as fond of beer there will also be an area to sample some of Southern California's finest wines as well as home brewed sodas by Pacific Gravity Home Brewers Club. Just as any artist painstakingly toils over each detail of a masterpiece, today's craft brewer goes to great lengths to produce unique, award-winning works of art. With the marriage of beer, art and music, BAM Fest has brewed a one-of-a-kind fundraising event.
The music lined up for BAM Fest is just as diverse as the beer samples. From the addictive rock & roll sounds rooted in rural blues, early country, and Appalachian folk music of "The Americans," to the sultry vocals, feminist chicana lyrics and powerful Japanese Taiko drums of "Lysa Flores and East L.A. Taiko" the featured music at 18th Street's festival is sure to make attendees groove. The Los Angeles-based trio, "American Bloomers," is founded on authentic pop music that is steeped in classic rock and folk harmonies, while "The Dustbowl Revival" mix a spicy roots cocktail with their dance-inducing live sets that merge old school bluegrass, swamp-gospel, jugband, jump blues and the hot swing of the 1930's. Between band sets, artist and DJ, "Freshair" will fuse an array of musical styles to keep the crowd jammin'.
BAM Fest attendees also get the special opportunity to explore a dynamic installation of new work by 18th Street's Lab Artist, Eamon Ore-Giron. Incorporating sculpture, video, painting, music and performance Ore-Giron references the alternate guitar tuning scale E-B-G-D-B-G unique to the Central Andes, by likening this indigenous Spanish musical scale with the merger of folk, pop, historical and conceptual references throughout his interdisciplinary artworks. Themes of tourism, revolution, design, and public sculpture are at play in the works, while formal questions about the relationship between functional sculpture and introspective form are explored. In addition, artworks are available for purchase at an artist marketplace organized by past 18th Street Artist Fellow, Ana Guajardo, and the resident artists who live, work and create daily at 18th Street open their studios for attendees to experience works in progress.
Need a little something to soak up all the scrumptious brews? The bold and flavorful authentic Mexican dishes by the Border Grill Truck or the sublime banh mi and Vietnamese tacos from the Nom Nom Truck might just do the trick. Or perhaps a half-pound "maneater" sized burger from Baby's Badass Burgers or a family-farmed pork bratwurst or spicy "hot" dog with signature Devil Sauce from Let's Be Frank Dogs is more your style. In addition, Fresh Brothers Pizza will be offering complimentary pizza samples that should keep your grumbling stomach at bay. Without a doubt, BAM Fest 2012 is poised to draw a fun crowd in its third year as Santa Monica's 'hoppiest' annual event.
Participating Breweries
Anchor Brewing Company – Angel City Brewing Company – Ballast Point Brewing Company – Beachwood BBQ & Brewing Company – Bootlegger's Brewery – Boston Beer Company – Brasserie d'Achouffe – Brewery at Abigaile, The – Brewery Ommegang – Brouwerij West – The Bruery – Cismontane Brewing Company – Cosmic Ales – De Koninck – Drake's Brewing Company – Duvel-Moortgat – El Segundo Brewing Company – Firestone Walker Brewing Company – Golden Road Brewing Company – Hangar 24 Brewing Company – Ladyface Ale Companie – Lagunitas Brewing Company – Liefmans – Maredsous – Monkish Brewing Company – New Belgium Brewing Company – North Coast Brewing Company – Pizza Port, Carlsbad – Sierra Nevada Brewing Company – Smog City Brewing Company – Stone Brewing Company – Strand Brewing Company – Surf Brewery – TAPS Fish House and Brewery
Tickets are on sale at: http://18thstreet.org/events/bam-fest-2012. For more information about BAM Fest 2012 and 18th Street Arts Center visit: www.18thstreet.org – @18thStreetArts – facebook